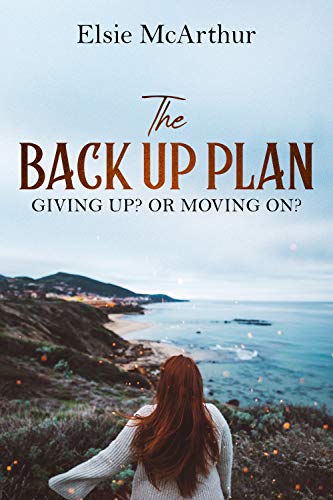 ShortBookandScribes #BookReview – The Back Up Plan by Elsie McArthur
I'm delighted to be reviewing this gorgeous read today. My thanks to the author for kindly sending me a copy of the book for review purposes.
---

---
Giving up? Or moving on?

That's the question for thirty-something Marsaili McKenzie. Ten years after fleeing her tiny coastal village for dreams of fame and fortune in the big city, she finds herself on the brink of an existential crisis. Far from being the star actress she once imagined, she's still working as a barmaid in a Glasgow theatre while all around her, her friends and family are getting engaged, pregnant or promoted.

It's all she can do to keep her head above water. But as a new year approaches, she resolves to give her acting dreams one last shot. That is, until a couple of unexpected distractions arrive on the scene.

Will Hunter is undeniably handsome, as well as being aloof, socially awkward, posh and in the middle of a nasty divorce. And to make things even more complicated, he's also her new boss.

Local boy made good, soap star Euan Campbell, is the epitome of a charismatic leading man. His easy-going charm soon sweeps Marsaili off her feet, but is there more to him than meets the eye?

To top it all off, Marsaili finds herself inexplicably drawn back to the simple, rural life she used to loathe. Can she finally figure out which dreams are worth pursuing, and would it really be so bad to resort to her back up career after all?

Join Marsaili as she navigates the choppy seas of love, family, friendship and self-discovery. This heart-warming novel is full of romance, laughter and more than enough drama to keep you on the edge of your seat!
---
---
The Back Up Plan is an absolutely gorgeous romance which I finished with a massive smile on my face.
Marsaili (rhymes with parsley, kind of) McKenzie is drifting through her life. She's an actress but has never actually got a breakthrough so she's working at a theatre in Glasgow. She's 33 and is starting to come round to the idea that a rethink of her life might be in order. I loved Marsaili even though she's a little prickly at times and has a tendency to put herself down. I thought the author portrayed her perfectly through her words with her fiery yet kind nature and her beautiful red curls.
Two things really made this a stand out story for me. The first is the way that Elsie McArthur writes the love story strand. Marsaili is, for a while, torn between Euan, a dashing soap star, and Will Hunter, her new boss at the theatre. No spoilers but I was desperate for her to come to her senses and end up with the right person, a man who might have to go on my list of crushes in fiction!
The second thing that I really loved was the setting. I'm sure Glasgow is perfectly nice but when Marsaili went back to her childhood home in the Scottish Highlands I was absolutely captivated. I love all things Highlands and Islands and there were contented oohs and aahs coming from my mouth. There's something so attractive about the thought of Marsaili's parents' croft, so cosy and welcoming.
McArthur has a lovely warmth to her writing. It felt like I was enveloped in a snug blanket, it was such a delight to read. I didn't want to let the characters go and I was completely captivated by this charming story. It's relatively light-hearted but it's not a fluffy, silly story. Actually, it's pretty much perfect.
I'm pleased to see there's a book two on the horizon. Not a sequel but a new story set on a Scottish island! I'm already excited. Based on my experience with The Back Up Plan it's going to be pure joy.
---

---
Elsie McArthur is an independent author of women's fiction. After studying law at university, and then re-training as a primary school teacher, she now lives in the Highlands of Scotland with her husband, two kids, a couple of badly behaved dogs and a cat with a superiority complex. As well as continuing to work part time as a teacher, she is now indulging in her first love of writing. Her first book, 'The Back Up Plan', was released in January 2020. Her second novel, 'Love, on the Rocks' – a tale of love, loss and starting over set on the remote Scottish island of Inniscreag – is due for release in Summer 2020.