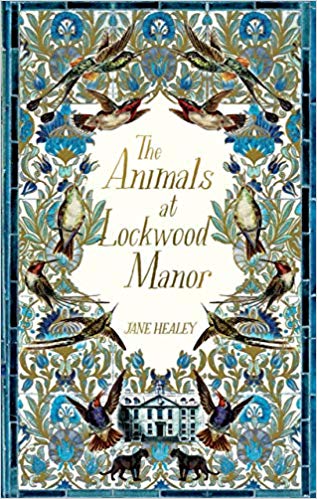 ShortBookandScribes #BookReview – The Animals at Lockwood Manor by Jane Healey @MantleBooks
My review today is of The Animals at Lockwood Manor by Jane Healey, published by Mantle Books on 5th March. This was one of my most anticipated reads of this year and as you will see from my review, I really enjoyed it. Can we take a moment to appreciate the gorgeous cover? My thanks to Ellis Keene from Mantle/Pan Macmillan for sending me a proof copy for review purposes.
---
Some secrets are unspoken. Others are unspeakable . . .

August 1939.

Thirty-year-old Hetty Cartwright is tasked with the evacuation and safekeeping of the natural history museum's collection of mammals. Once she and her exhibits arrive at Lockwood Manor, however, where they are to stay for the duration of the war, Hetty soon realizes that she's taken on more than she'd bargained for.

Protecting her charges from the irascible Lord Lockwood and resentful servants is work enough, but when some of the animals go missing, and worse, Hetty begins to suspect someone – or something – is stalking her through the darkened corridors of the house.

As the disasters mount, Hetty finds herself falling under the spell of Lucy, Lord Lockwood's beautiful but clearly haunted daughter. But why is Lucy so traumatized? Does she know something she's not telling? And is there any truth to local rumours of ghosts and curses?

Part love story, part mystery, The Animals at Lockwood Manor by Jane Healey is a gripping and atmospheric tale of family madness, long-buried secrets and hidden desires.
---

You know how sometimes a book just has a hook that appeals to you immediately? That is what happened to me with The Animals at Lockwood Manor. I was straightaway fascinated by the idea of stuffed animals being evacuated from a museum during World War II to what is, in my head at least, something akin to a stately home.
For that is what happens when war breaks out and Hetty Cartwright must look after the animals from the museum where she works in London. She also is evacuated to Lockwood Manor with her beloved specimens. This is not a walk in the park for Hetty though. Major Lockwood is an irascible brute of a man, unkind, unpleasant and boorish. I must say that I inwardly cheered every time Hetty managed to stand up to him though. He and his daughter, Lucy, are the only 'above stairs' residents of the Manor since the death of his wife and mother. There is also a selection of servants and guards for the animals, and each character adds to the layers of the story.
This is a gothic read with many hidden depths. I really didn't expect a couple of the threads of the story at all. I loved the friendship that developed between Hetty and Lucy, two women of a similar age, both stymied by their families and their backgrounds, both looking for something more in their lives. I also found the descriptions of the animals absolutely enthralling. There are everyday creatures combined with the more exotic and it's quite clear Hetty is a little in love with them all!
There's a kind of supernatural aspect to some of the story and those dark corridors and recesses of the Manor provide ample opportunity for sinister happenings, including the mysterious disappearance of some of the animals. Is it ghostly goings on or is some of it down to human malevolence? I thought the author kept up the suspense really well.
This is an atmospheric read with the Manor being a character in its own right. It's not a fast-paced read, more one that takes the time to build up the mood. It's dark and unexpected, beautifully written, and I enjoyed it very much.
---

Jane Healey was named after Jane Eyre, but was initially too frightened of the ghost in the red-room to read beyond the second chapter. She returned to it – successfully – when she studied English Literature at Warwick University.
She has been shortlisted for the Bristol Short Story Prize 2013, the Costa Short Story Award 2014, the Commonwealth Short Story Prize 2016 and the Penguin Random House WriteNow mentoring programme 2017.
The Animals at Lockwood Manor is her first novel.
She lives in Edinburgh.
Author bio and photo taken from Amazon