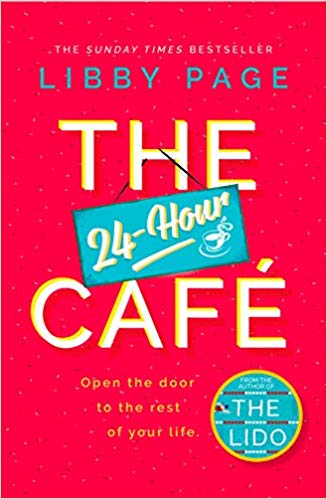 ShortBookandScribes #BookReview – The 24 Hour Cafe by Libby Page @orionbooks #The24HourCafe
I'm so pleased to be reviewing The 24 Hour Cafe by Libby Page today. I loved The Lido so was really keen to read this, her second book. It's a really lovely read. My thanks to Virginia Woolstencroft at Orion for the proof copy of the book for review purposes and to Libby for the delightful handwritten note.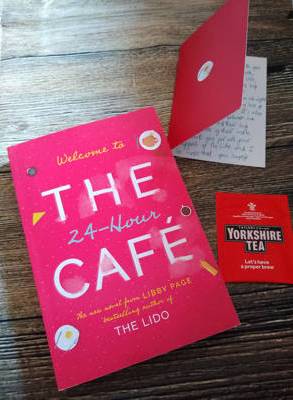 ---

Welcome to the café that never sleeps.

Day and night, Stella's Café opens its doors to the lonely and the lost, the morning people and the night owls. It's a place where everyone is always welcome, where life can wait at the door.

Meet Hannah and Mona: best friends, waitresses, dreamers. They love working at Stella's – the different people they meet, the small kindnesses exchanged. But is it time to step outside and make their own way in life?

Come inside and spend twenty-four hours at Stella's Café, where one day might just be enough to change your life . . .
---
I was a huge fan of Libby Page's debut, The Lido. In The 24 Hour Café she has returned to the kind of warmth in her writing and story that I enjoyed so much in that former book.
As you might have guessed, this book is set around a café, one that opens 24 hours a day. I don't know how many cafes there are like that but this one is opposite Liverpool Street Station in London and is a haven for people looking for refuge really. Without anyone realising it, the café is a place of safety, of calmness amongst storms. The two main characters are best friends, Hannah and Mona. Both work as waitresses in the café, both have ambitions to be performers, both are working a 12 hour shift on the one particular day the book is set over, Hannah doing midnight until 12 noon, Mona doing 12 noon until midnight. This is an important day for both of them and for many of the customers the café sees over the course of the 24 hours.
This is a very engaging read. So much of life is between the 400 or so pages. Libby Page says that it came about because of her own love of people watching and I guess that's probably what appealed to me too, as I also enjoy watching people and noticing little things about them. I enjoyed so much about the friendship between Hannah and Mona but it also had its sadnesses and difficulties. What comes across is the reality of all the situations in the book. No friendship or relationship is perfect and the author has portrayed beautifully the myriad ups and downs of life.
I'd love to visit Stella's Café. Right at the very beginning of the book we are given a mini tour and it comes across as such a welcoming and kind place. The story itself is constructed in such a charming way. Whilst Hannah and Mona's stories take centre stage, around them, in the wings, are a series of vignettes: the customers' stories. I really liked how the author mingled those in. She really brought that café to life for me.
I didn't find this a quick read, possibly because it's quite introspective and there's a lot more narrative than dialogue. But it's beautiful narrative that really tells a story and digs deep into the characters' emotions and I'm glad I didn't have to rush it. The 24 Hour Café is a place I would like to visit but as I can't I shall content myself with the fact that I have spent happy hours reading about it.
---

Libby Page wrote The Lido while working in marketing and moonlighting as a writer. The Lido has sold in over twenty territories around the world and film rights have been sold to Catalyst Global Media. Libby lives in London where she enjoys finding pockets of community within the city.