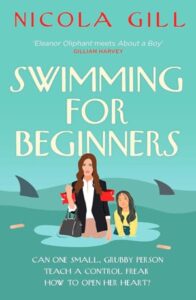 ShortBookandScribes #BookReview – Swimming for Beginners by Nicola Gill
Swimming for Beginners by Nicola Gill was published by Bedford Square Publishers on 14th September 2023. My thanks to Anastasia from the publishers for the review copy.
---

---
Funny, heartbreaking and life-affirming, Swimming for Beginners will show you how a child can open your heart even if you aren't a mother.

Loretta has life under control.

She's good at avoiding things that make her uncomfortable, she's chasing a big promotion at work, and she's marrying a man whose five-year plan aligns perfectly with her own.

Children do not come into the mix.

This all changes, however, when a stranger in an airport asks Loretta to keep an eye on her sleeping six-year-old, Phoebe. The stranger never comes back.

Loretta knows that Phoebe's life will change forever from that moment. But so will hers.

This strange little person in fairy wings will turn Loretta's world upside down and cause her to question everything she knows about herself.

Dive into Nicola Gill's heart-warming and relatable journey into the power of a child's love and its ability to transcend motherhood.
---

---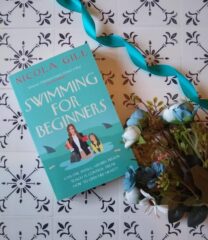 Loretta is the kind of person who is always organised. She makes lists, she is very direct and she is a germaphobe. Hot desking is a nightmare for her but she can whip out her antibacterial wipes and her hand gel and it becomes bearable again. She works in advertising and is very ambitious. On her way to a pitch in New York she encounters six year old Phoebe and her mum, Kate. They are complete opposites to Loretta and they talk nineteen to the dozen and are generally chaotic. When Kate goes to the toilet and doesn't come back Loretta finds herself with a kind of responsibility for Phoebe and it is truly life-changing.
Swimming for Beginners is a real joy of a story. I couldn't help but love Loretta whilst also knowing that she's the sort of person others often find difficult to gel with. There's so much more to her than initially meets the eye, both in terms of her behaviour and what she's capable of, the latter surprising Loretta herself. Phoebe is a delightful character. Like all children, she has zero filter and she comes out with some funny things, but she's also heartbroken and that's hard for Loretta to deal with.
It turns out that Loretta and Phoebe are good for each other and it was so rewarding and uplifting to follow their story. I loved that it ended with hope for the future. This is a beautiful read from Nicola Gill, a story of a healing friendship between an adult and a child which gave me all the feels.
---
---
Nicola Gill lives in London with her husband and two sons. At the age of five, when all of the other little girls wanted to be ballet dancers, she decided she wanted to be an author. Her ballet teacher was very relieved. When she s not at her desk, you can usually find Nicola reading, cooking up vast vats of food for friends and family or watching box sets. Occasionally she even leaves the house…