ShortBookandScribes #BookReview – Strangers by C.L. Taylor @AvonBooksUK #BlogTour
It's my stop on the mammoth blog tour for Strangers by C.L. Taylor today. My thanks to Sanjana from Avon Books for the place on the tour. The book is my own as the blog tour copies are currently self-isolating!!
---

---
Ursula, Gareth and Alice have never met before.

Ursula thinks she killed the love of her life.
Gareth's been receiving strange postcards.
And Alice is being stalked.

None of them are used to relying on others – but when the three strangers' lives unexpectedly collide, there's only one thing for it: they have to stick together. Otherwise, one of them will die.

Three strangers, two secrets, one terrifying evening.

The million-copy bestseller returns with a gripping new novel that will keep you guessing until the end.
---

---
A new C.L. Taylor book is always cause for celebration for me. I've never been disappointed. However, I think Strangers is quite possibly my favourite so far.
It's set around three characters: Alice, Gareth and Ursula. Alice is a divorced clothes shop manager and lives with her daughter, Emily, who encourages her to try dating again. However, events take a rather unusual turn when she meets up with a man. Gareth is a security guard at The Meads shopping centre. He lives with his mum who has dementia and doesn't have much of a life outside of his work and his home commitments. And Ursula is kind of adrift in her life after a terrible thing happened. Shoplifting makes her feel better somehow.
It's a testament to how good a writer Taylor is that she's taken three people with only the most tenuous of connections and written three individual stories about them which, for much of the book, don't cross over that much. And yet at the end of each character's chapter I didn't want to leave them behind, so engrossed was I in what was happening to them. It's particularly interesting when you consider how many strangers you come across in your day to day life and how random it all is.
I honestly didn't know how those three separate strands were going to come together and when they did it was a surprise. It was like being a fly on the wall of all of the lives contained within the pages, watching them as they go about their day to day business, dealing with all that life throws at them. Maybe it's my innate nosiness about what's going on behind closed doors that made this book so appealing.
I love the clever plotting that must have gone into this novel. It's a fast paced and exciting read with characters that I was thrilled by. I could have gone on reading about them but I realise the author needed to wind it up somewhere! Strangers is an absolutely brilliant read in every way and I loved it!
---

---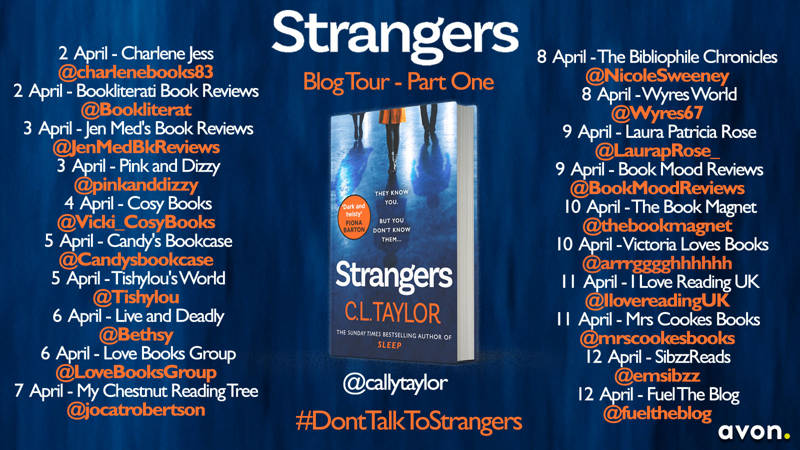 ---
---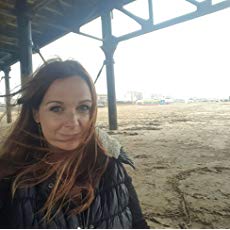 C.L. Taylor is an award winning Sunday Times bestselling author of seven gripping psychological thrillers including SLEEP, a Richard and Judy Book Club pick for autumn 2019. Her books are not a series and can be read in any order:
2014 – THE ACCIDENT
2015 – THE LIE
2016 – THE MISSING
2017 – THE ESCAPE
2018 – THE FEAR
2019 – SLEEP
2020 – STRANGERS
She has also written two Young Adult thrillers, THE TREATMENT, which was published by HarperCollins HQ and THE ISLAND, which will be published in January 2021.
C.L. Taylor's books have sold in excess of a million copies, been number one on Amazon Kindle, Kobo, iBooks and Google Play and have been translated into over 25 languages and optioned for TV.
SLEEP won the 'best ebook' award in the Amazon Publishing Readers' Awards. THE ESCAPE won the Dead Good Books 'Hidden Depths' award for the Most Unreliable Narrator. THE FEAR was shortlisted in the Hearst Big Book Awards in the 'Pageturner' category.
Cally Taylor was born in Worcester and spent her early years living in various army camps in the UK and Germany. She studied Psychology at the University of Northumbria and went on forge a career in instructional design and e-Learning before leaving to write full time in 2014. She lives in Bristol with her partner and son.
Sign up to join the CL Taylor Book Club for access to news, updates and information that isn't available on the web, as well as exclusive newsletter-only competitions and giveaways and the books that CL Taylor thinks will be the next big thing. You will also receive THE LODGER for free when you join CL Taylor Book Club.
Website
Twitter
Instagram
Facebook
Author bio and photo taken from Amazon