ShortBookandScribes #BookReview – Stanley and Elsie by Nicola Upson @nicolaupsonbook @Duckbooks #BlogTour
I'm really so pleased to be reviewing Stanley and Elsie by Nicola Upson today as part of the blog tour. My thanks to Fanny Emily Lewis from Duckworth Books for the place on the tour and for sending a copy of the book for review along with a lovely tote bag.
---
It's 1928 and Stanley Spencer arrives in a quiet Hampshire village ready to create the
commission of a lifetime. Hired as his housekeeper, Elsie quickly becomes so much
more: a muse and a friend for whom he develops a deep, lifelong affection. A joy in
the ordinary things bonds them, a simple love of life which is crucial to Spencer's
art but which his wartime experiences and growing celebrity have all but destroyed.
Elsie becomes a vital part of the Spencer family, sharing in the creation of Spencer's masterpieces and the daily dramas of his life: his marriage to the painter Hilda
Carline and the artistic rivalry between husband and wife; the continuing impact of
the First World War on all their lives, and the scandal over Spencer's personal and
artistic attitudes toward sex. As the years pass, Elsie does her best to keep the family
together even when love, obsession and temptation seem set to tear them apart…
Spencer painted the women in his life with a combination of ruthless honesty and
nostalgic idealism, but their voices are tantalisingly absent from history. Stanley
and Elsie turns the tables and gives full lives to the women who shaped Stanley
Spencer's life.
---

I do love a book set around real people or real life events and so I jumped at the chance to read Stanley and Elsie.
Stanley is Stanley Spencer, artist. Elsie is the woman employed by Stanley and his wife, Hilda, to be their maid. This is the 1920s, almost ten years after the First World War ended. Stanley is working on an epic project, paintings on the walls of a chapel commissioned in memory of his patron's late brother. This is where Elsie enters the life of the Spencer family and where she finds herself utterly entrenched in their lives.
I would guess that Nicola Upson has done an awful lot of research into the Spencers and so the bones of the story are factually correct, but also that she's obviously fictionalised conversations and day to day life. What I'm getting round to saying is that she's done a fantastic job at weaving together fact and fiction. Although I love 'faction' I do sometimes find that an author is restricted by the need to stick to the facts. Here though, Upson achieves something quite special: she uses the facts to draw me completely into the fiction.
Mind you, it's quite a story anyway. They do say the truth is stranger than fiction. I had never heard of Stanley Spencer and so it's been quite the journey of discovery for me. He was a bit odd, a bit self-absorbed and more than a little selfish. But the people around him put up with him because of who he was and what he was doing. I found myself getting quite annoyed with him a lot of the time, and then all of a sudden he would do something rather lovely that redeemed him (a little).
The fact that I had never heard of Stanley meant that I didn't have any preconceptions and the story of his life was all new to me. For that reason, I'm not going to go into any of the facts of his life here as you might want to approach it in the same way. What I did do, though, was constantly search on the internet throughout the whole book, looking up the people and the paintings – be careful if you do this as spoilers can occur! It just shows how interested I was in what I was reading though.
I haven't really mentioned Elsie so far and yet she was my favourite character by far. In fact, I liked the sections about her immensely and loved reading about her simply going about her job as maid. I think she was more than a maid really, more of a housekeeper, and she was well-respected. I particularly liked how she became quite the confidante for both Stanley and Hilda, almost a nanny to their children, and yet she also still knew her place as a servant. I liked her so much that, at the beginning of part two when it seemed as though the focus would move away from Elsie, I actually said out loud "oh no, Elsie". I didn't want to lose her.
Stanley and Elsie is just wonderful in every way. The settings are portrayed vividly and the characterisations are perfect. The writing is quite poetic, quite lyrical, quite beautiful, and this imagining of their lives is just lovely.
---

---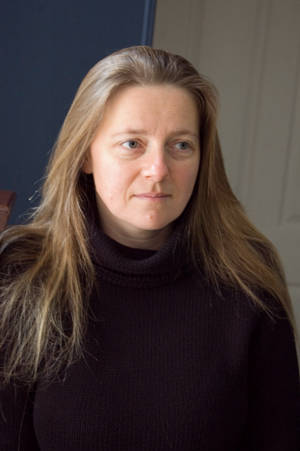 Nicola Upson was born in Suffolk and read English at Downing College, Cambridge. She has worked in theatre and as a freelance journalist, and is a regular arts
contributor to a number of radio networks. Nicola's debut fiction, An Expert in Murder, was the first in a series of novels to feature the real-life author and playwright
Josephine Tey, one of the leading figures of the Golden Age of crime writing. The
book has been dramatised by BBC Scotland for BBC Radio 4, and was praised by
PD James as marking 'the arrival of a new and assured talent'. Nine Lessons, Nicola's
most recent novel, was shortlisted for the 2018 CWA Historical Dagger. Nicola lives
with her partner in Cambridge and Cornwall.