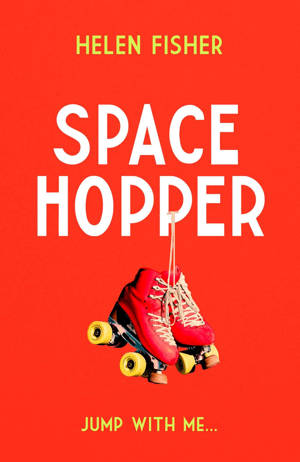 ShortBookandScribes #BookReview – Space Hopper by Helen Fisher #JumpWithMe
Space Hopper by Helen Fisher has been high on my 'want to read' list since I first heard about it so I'm delighted to be sharing my thoughts about it with you today. My thanks to Polly Osborn and Jess Barratt from Simon & Schuster for sending a proof copy of the book for review purposes. Space Hopper will be published in February 2021.
I can't tell you how excited we are for #SpaceHopper @HFisherAuthor to hit shelves in Feb 2021 – and how magical is this trailer? Proofs available now #JumpWithMe pic.twitter.com/ubz0zSSQ3Q

— Jess Barratt (@jessbarratt88) October 12, 2020
---

---
This is a story about taking a leap of faith
And believing the unbelievable

They say those we love never truly leave us, and I've found that to be true. But not in the way you might expect. In fact, none of this is what you'd expect.

I've been visiting my mother who died when I was eight.
And I'm talking about flesh and blood, tea-and-biscuits-on-the-table visiting here.

Right now, you probably think I'm going mad. 
Let me explain…

Although Faye is happy with her life, the loss of her mother as a child weighs on her mind even more now that she is a mother herself. So she is amazed when, in an extraordinary turn of events, she finds herself back in her childhood home in the 1970s.  Faced with the chance to finally seek answers to her questions – but away from her own family – how much is she willing to give up for another moment with her mother?

For fans of The Time Traveler's Wife comes an original and heartwarming story about bittersweet memories, how the past shapes the future, and a love so strong it makes you do things that are slightly bonkers.
---

---
I find time travel novels pretty hard to resist, particularly when they head into the past and concentrate very firmly on real life scenarios. Space Hopper fits the bill perfectly for me.
Faye is happy with her life. She has two beautiful children and if husband Eddie's foray into training as a vicar isn't quite what she had in mind then she's prepared to get behind it if that's what he wants. She works at the RNIB testing products to see how well they work for blind people. In short, she feels pretty fulfilled. But there's something missing. Faye's mum died when she was 8 in fairly unexpected circumstances and it's left a hole in her life that she's never been able to fill.
This is where it gets really interesting. Faye accidentally finds a portal into the past and finds she can get back to the 1970s when she was a young girl, before she lost her mum, and spend precious time with her as an adult.
I must admit that at the beginning of the book I wasn't wholly convinced by the method of time travel or Faye and her mum's relationship in the past, but as I read on I grew more and more invested in Faye's journeys and I felt the storyline as a whole started to knit together more. I found her relationship with her mum to be very moving.
What I always enjoy most of all about time travel stories is the sheer mind-bending aspect of them, the way that a character can travel into the past and was absolutely meant to be there to make things happen in the future. There were some of those mind-bending happenings in this book and also a couple of serious hand over mouth moments. The plotting is brilliant and I thought the author really made this book a compelling and thought-provoking read. It certainly provided a talking point for me with family and friends.
After being slightly unsure at the start I ended up loving Space Hopper. It's a touching exploration of mother/daughter relationships, it's an enthralling story of venturing into the past, and it reminded me of my own Sunday teatimes watching Bullseye. It's nostalgic, original and slightly crazy, and I enjoyed it very much.
---
---
Helen Fisher spent her early life in America, but grew up mainly in Suffolk where she now lives with her two children. She studied Psychology at Westminster University and Ergonomics at UCL and worked as a senior evaluator in research at RNIB. She is now a full-time author.Space Hopper is her first novel. She is currently working on her second novel.