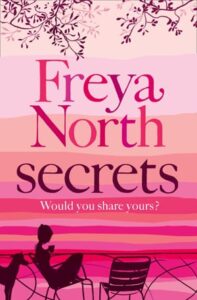 ShortBookandScribes #BookReview – Secrets by Freya North
Secrets by Freya North was published in 2009 by Harper Fiction and is available in paperback, eBook and audiobook.
---

---
We all have our secrets. It's just some are bigger than others…

Joe has a beautiful house, a great job, no commitments – and he likes it like that. All he needs is a quiet house-sitter for his rambling old place by the sea. When Tess turns up on his doorstep, he's not sure she's right for the job. Where has she come from in such a hurry? Her past is a blank and she's something of an enigma.

But there's something about her – even though sparks fly every time they meet. And it looks as though she's here to stay…
---

---
When I go on holiday I try and find at least one book to read that is set in the place I will be visiting so I was really pleased to not only find that Secrets is set in Saltburn-by-the-Sea but that it's also by an author whose books I have enjoyed in the past. The author's love for the town really shines through.
Secrets is the story of Tess, a young mother who flees her home in London for a house-sitting role in Saltburn on the North Yorkshire coast. The house belongs to Joe, a man who goes away a lot for his job and he needs someone to look after not only his home but also his huge dog, Wolf. Initially Tess and Joe seem to wind each other up but they soon get to know each other and they find something special between them.
I thought this was a lovely read. As you might guess by the title, Tess and Joe each have their secrets and there's a (mostly) gentle unburdening as the story goes on. It's sometimes a bit explosive too because the realisation of a secret kept can often seem like a betrayal.
I seem to be drawn to books where the characters just go about their normal lives and that is what Tess has to do while Joe is away. I enjoyed her trips into Saltburn, discovering the pier, the cliff lift and the seafront, along with the hills that she pushes her daughter's buggy up and down. I also enjoyed the new friendships she made and the sense of a community.
Secrets is an easy to read book but covers emotions and feelings in some depth too. I felt very satisfied when I reached the end.
---
---
Freya North is the author of many bestselling novels which have been translated into numerous languages. She was born in London but lives in rural Hertfordshire, where she writes from a stable in her back garden. To connect with Freya and hear about events, unique competitions and sneak previews of what she's writing, join her on Facebook, Twitter or her website:
facebook.com/freya.north
@freya_north
www.freyanorth.com