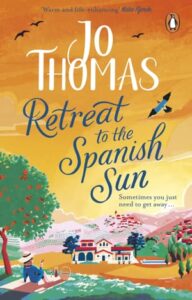 ShortBookandScribes #BookReview – Retreat to the Spanish Sun by Jo Thomas
Retreat to the Spanish Sun by Jo Thomas was published on 23rd June 2022 by Transworld.
---

---
From the bestselling author of Escape to the French Farmhouse comes a deliciously feel-good new story…

Eliza has a full house! When her three children grew up and moved out, she downsized to a smaller property… but now they're all back. Every room in the house is taken and Eliza finds herself sharing her bed with her eldest daughter and her daughter's pug. Combined with the online course she's trying to finish, plus her job to fit in, there just isn't the peace and quiet that Eliza needs.

So when an ad pops up on her laptop saying 'house-sitters wanted', Eliza can't resist the chance to escape. She ends up moving to a rural finca in southern Spain, looking after the owner's Iberico pigs, learning about secret gastronomic societies… and finding a new zest for life and love along the way.
---

---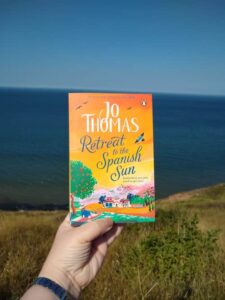 It's a happy day when there's a new Jo Thomas to pick up. This latest release, Retreat to the Spanish Sun, is an absolute joy.
Eliza's three grown up kids have returned to the nest but she lives in a small flat and there's just no room for them all. Struggling to find space to do her work as an estate agency receptionist alongside college work, she takes a short term position as a house-sitter in southern Spain to give her the time to breathe and finish her essay. However, it's not long until she's fully immersed in Spanish life and the pig farm where she's staying.
I found this such an evocative read and could totally imagine the house and the swimming pool and the pigs, especially Banderas, the lovesick boar. There's warmth in abundance, from imagining the feel of the sun on Eliza's face to the feelings that she gets when she meets new friends, and the gorgeous pig farmer, Josep. I loved Josep and may have had a little swoon over him myself!
I've never read a book with so much excitement and intrigue over ham! I really liked the way that food and taste played such a huge part of the story – the sherry, the tapas and yes, the melt in the mouth ham. It's that unique Thomas blend of food and travel that makes her books so appealing.
Eliza has a big adventure in this story and I was so pleased for how things turned out for her. I think this is one of my favourite Jo Thomas books – the romance, the cuisine and the camaraderie made it really special. I loved it. Bring on the next one now!
---
---
Jo Thomas worked for many years as a reporter and producer, including time at Radio 4's Woman's Hour and Radio 2's The Steve Wright Show.
Jo's debut novel, The Oyster Catcher, was a runaway bestseller and won both the RNA Joan Hessayon Award and the Festival of Romance Best eBook Award. Her recent book Escape to the French Farmhouse was a #1 bestselling eBook and in every one of her novels Jo loves to explore new countries and discover the food produced there, both of which she thoroughly enjoys researching. Jo lives in Pembrokeshire with her husband and three children, where cooking and gathering around the kitchen table are a hugely important and fun part of their family life.