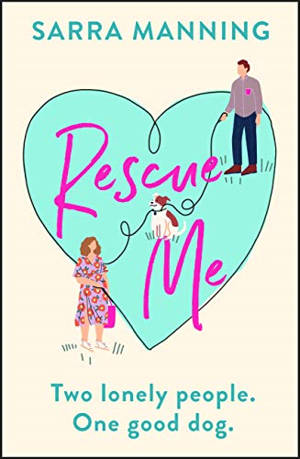 ShortBookandScribes #BookReview – Rescue Me by Sarra Manning #rescuemeblogtour
Today I'm reviewing Rescue Me by Sarra Manning for the blog tour. My date was actually 8th January but the return to home-schooling last week threw me off course so apologies for that. My thanks to Niamh Anderson of Hodder for the place on the tour and the gorgeous proof copy of the book for review purposes.
---

---
Margot doesn't have time for love.

Will is afraid to love.

And neither of them are expecting to fall in love with Blossom: a gentle Staffy with a tragic past, a belly made for rubbing and a head the size of a football.

After their first meeting at the rescue centre, both Margot and Will want to adopt Blossom so reluctantly agree to share custody. But Will's obsession for micro-managing and clear-cut boundaries and Margot's need to smother Blossom with affection, means that soon they have a very confused and badly behaved dog on their hands.

Can they put their differences aside to become successful "co-pawrents" and maybe even friends? And meanwhile, does Blossom have plans of her own?
---

---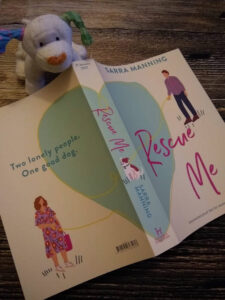 Who is being rescued here? Blossom the dog, or Will and Margot, her owners?
As the book begins Margot is in her mid-30s and has just split up with George. He wasn't the one but she was hopeful that he might still be someone she could settle down and have children with. She's watched her friends do this but when will it be her turn? She decides to adopt a rescue dog and she finds herself drawn to Blossom, a nervous Staffy with who knows what kind of past. Will is a troubled man, totally eligible but has no faith in himself. He also wants to adopt Blossom and so he and Margot agree to co-pawrent(!). It's an interesting concept and perhaps one that would suit a lot of people but you have to be able to get on with your co-pawrent, and Margot and Will butt heads quite a lot.
The story is told in alternating chapters from both human viewpoints and through this device we see how each character sees the other as well as being privy to their own inner thoughts. I felt this really made each of them three-dimensional and made me like them even more. It brought out the fact that what we show to other people isn't always indicative of our real self.
Blossom is an absolute delight. She's quite a little madam at times and knows exactly how to manipulate her two owners and often play them off against each other, the little minx. Even Blossom, though, has a back story which only sometimes she feels able to face.
I thought Rescue Me was a book with a story that creeps up on you and slowly wraps you in a warm embrace. I came to care about the main characters and also really enjoyed the supporting cast of Margot's friends and Will's family. It's a gorgeous, original read, totally heart-warming and full of all the things I love in a book.
---

---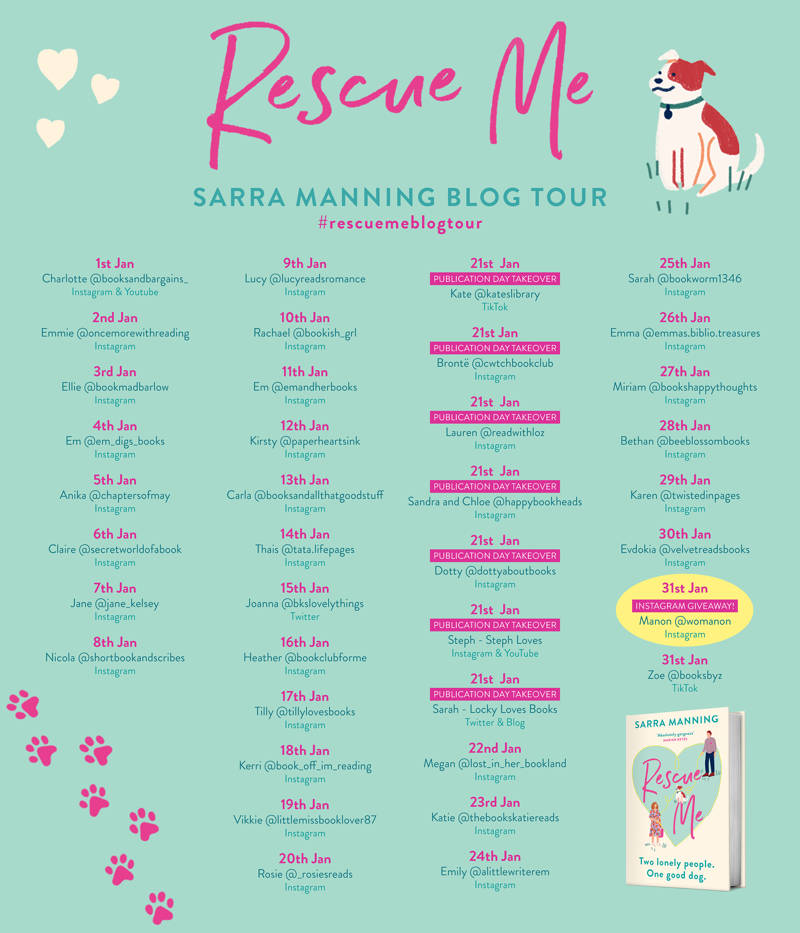 ---
---
Sarra Manning has been a voracious reader for over forty years and a prolific author and journalist for twenty five.
Her seven novels, which have been translated into fifteen different languages include Unsticky, You Don't Have To Say You Love Me, The House Of Secrets and her latest, The Rise And Fall Of Becky Sharp, published in 2018. Sarra has also written over fifteen YA novels, and light-hearted romantic comedies under a pseudonym.
She started her writing career on Melody Maker and Just Seventeen, has been editor of ElleGirl and What To Wear and has also contributed to The Guardian, ELLE, Grazia, Stylist, Fabulous, Stella, You Magazine, Harrper's Bazaar and is currently the Literary Editor of Red magazine.
Sarra has also been a Costa Book Awards judge and has been nominated for various writing awards herself.
She lives in London surrounded by piles and piles of books.