ShortBookandScribes #BookReview – Recipe for a Perfect Wife by Karma Brown @Legend_Press #BlogTour
Welcome to my stop on the blog tour for Recipe for a Perfect Wife by Karma Brown. I'm sharing my thoughts about this book with you today. My thanks to Lucy Chamberlain from Legend Press for the place on the tour and for sending a copy of the book for review purposes.
---
When Alice Hale leaves a career to become a writer and follows her husband to the New York suburbs, she is unaccustomed to filling her days alone in a big, empty house. But when she finds a vintage cookbook buried in the basement, she becomes captivated by its previous owner: 1950s housewife Nellie Murdoch. As Alice cooks her way through the past, she realizes that within the pages Nellie left clues about her life.

Soon Alice learns that while a Baked Alaska may seem harmless, Nellie's secrets may have been anything but. When Alice uncovers a more sinister, even dangerous, side to Nellie's marriage, and has become increasingly dissatisfied with her own relationship, she begins to take control of her life and protect herself with a few secrets of her own.
---

Recipe for a Perfect Wife has all the ingredients I like in a book. It has a domestic setting, it's dual timeline and it has recipes!
The dual timelines are 2018 and 1955. In the 2018 story Alice Hale and her husband, Nate, are about to move from the city to the suburbs of New York. Nate wants a baby but Alice isn't sure what she wants. Having had a career in PR she now thinks that she wants to write a book.
The house they move to has a décor that is stuck in the 1950s which is when the previous owner, Nellie Murdoch, first lived there. We flit between the two times as we watch Nellie's marriage to Richard sour, alongside Alice's own marital difficulties.
In books such as this I usually have a favourite of the two stories. This time I'm not sure I did. I enjoyed both. There are dark elements to them, particularly the 50s story when a wife was supposed to pander to her husband, be there with a welcoming smile, wearing her kitten heels with a cocktail ready for him when he comes home. I have to say that the idea of me putting kitten heels on before my partner comes home is laughable. I'm usually slobbing around in my slippers. Although I think it's often easy to view the past with rose-tinted spectacles, I wouldn't have wanted to live in such unenlightened times for women.
Nellie's chapters all start with a recipe and I loved seeing what she was making. Alice's chapters, however, all begin with a quote from various publications about how a good wife should behave *roll eyes*. I liked these touches though as they are so illuminating.
This is a good read. I didn't take to any of the characters, although I was sympathetic to the female ones. There were one or two surprises that I really didn't see coming at all. All in all, this is an enjoyable and thought-provoking book.
---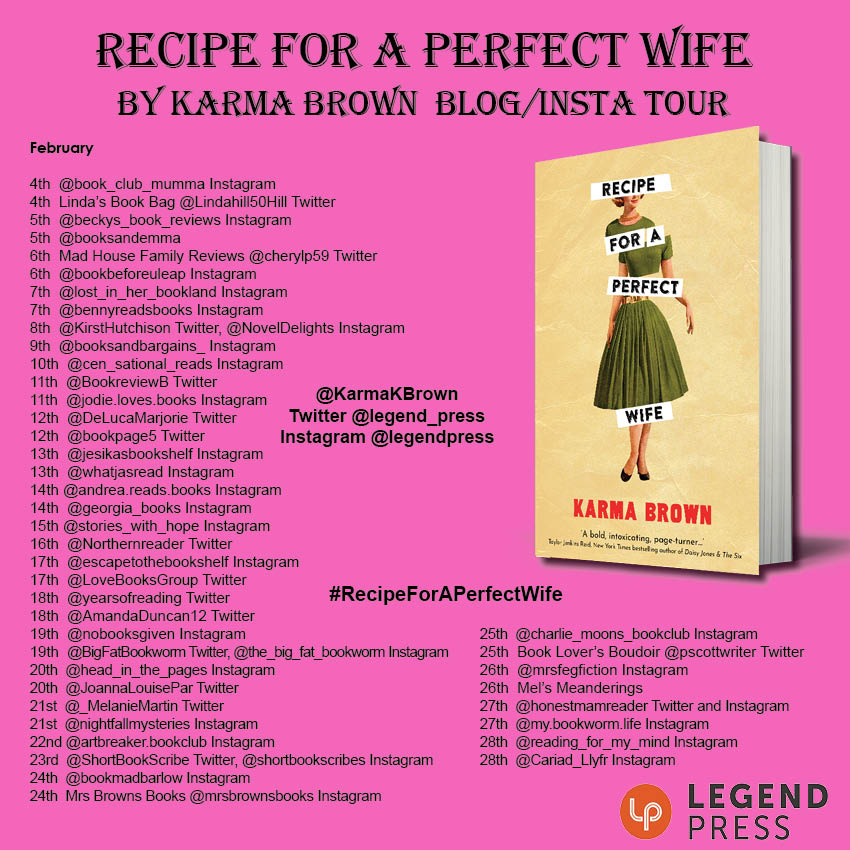 ---