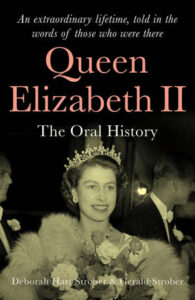 ShortBookandScribes #BookReview – Queen Elizabeth II: The Oral History by Deborah Hart Strober and Gerald Strober
Today's review is of the fascinating Queen Elizabeth II: The Oral History by Deborah Hart Strober and Gerald Strober. My thanks to September Publishing for sending me a copy for review purposes.

---

---
An extraordinary lifetime, told in the words of those who were there

Lieutenant Commander Michael Parker, then equerry-in-waiting to Princess Elizabeth and the Duke of Edinburgh, speaking about the death of King George VI:

'The Queen was really bowled over. Forlorn. Fully conscious of the fact that she was Queen, and that she must tend to affairs immediately, but at the same time carrying the load of this new, awful news. A brave person. Gosh! If I loved her before, boy did I love her after that!'

Queen Elizabeth II paints a spirited, global portrait of a life lived in service. It is packed full of fascinating eye-witness accounts; from the early years of Queen Elizabeth II's reign – the shocking death of her father and the adjustment required of a newly married couple – through to the children's marriages, the death of Princess Diana, and Prince Harry and Meghan's move to the United States.

It features interviews from diverse sources: staff (recognisable from their portrayals in The Crown), family and friends, such as Lady Pamela Hicks, and public figures including Rabbi Julia Neuberger, Michael Heseltine and Andy Burnham. Originally published in 2002, it also contains memories from crucial figures now lost to us, such as Winston Spencer Churchill and Nelson Mandela.

This extraordinary oral history presents revealing view into the workings of Buckingham Palace and the strengths and weaknesses of the Royal Family, asking questions about conflict and change, and the monarchy's journey as colonial institution.

With a broad spectrum of views on Queen Elizabeth II – from her role as leader of the Commonwealth to her personality in private – this unique book offers a remarkable insight into our Monarch.

'Both of us having dogs, mine being my seeing eye dog, Her Majesty and I had something in common and we always used to talk about ours. During Vladimir Putin's state visit to the United Kingdom, my dog barked at the Russian visitor and Her Majesty patted him, as if to say: ""Good dog! Good dog!""' David Blunkett
---

---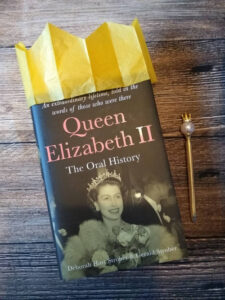 Queen Elizabeth II: The Oral History is a chunky tome and it is a truly fascinating read for anyone who loves royalty (as I do) or for those who enjoy oral history (also me). It is the Queen's life told through the recollections of those who were there and it's full of facts, thoughts and opinions.
It's broken down into six main sections, each with a number of sub-sections, covering the Queen's unexpectedly early accession to the throne, the abdication, war, marriage, coronation, everyday life, the Commonwealth, evolution of the monarchy and the future of the monarchy. I had my particular favourite sections, as I imagine any reader would. I was most interested in those early days of marriage to Prince Philip and her first days and years as Queen. I liked reading about her relationship with the many Prime Ministers over the years, and also the extremely controversial and troublesome Diana years.
As is often the case, there are conflicting views of the same events which made for interesting reading, and a few people were a little more critical than others. On the whole though, this is a book that very much celebrates the life of a popular and long-serving monarch with much praise for her humour and stoicism.
Although originally published in 2002, the book has been brought fully up to date in this 2021 edition so it mentions (but does not dwell on) recent events in the Royal Family. It's a comprehensive study of a woman who has given her life to her country and one that it's easy to dip in and out of. I enjoyed it very much.
---
---
Deborah Hart Strober and Gerald S. Strober are the co-authors of ten books to date, including oral histories of the Kennedy, Nixon and Reagan presidencies; and oral biographies of His Holiness the Dalai Lama; the evangelist Billy Graham; and Rudolph Giuliani. In compiling these works, the Strobers managed to penetrate the inner worlds of more than 500 leading personalities, including U.S. political figures and officials, foreign leaders, members of the British royal family, and religious personalities. In 2009, their book on Bernard L. Madoff, the first one to be published on that major financial scandal, was designated the Washington Post's Business Book of the Month for May 2009.