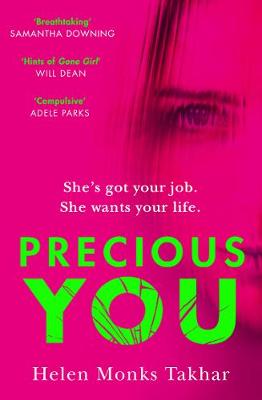 ShortBookandScribes #BookReview – Precious You by Helen Monks Takhar
My review today is for Precious You by Helen Monks Takhar, which is already available in ebook and is published in hardback on 23rd July. My thanks to Emily Kitchin from HQ for the proof copy of the book for review purposes.
---

---
She's got your job. She wants your life…

When Katherine first meets her new intern Lily, she's captivated. Young, beautiful and confident, Lily reminds Katherine of everything she once was – and it's not long before she develops a dark fascination with her new colleague.

But is Lily as perfect as she seems, or does she have a sinister hidden agenda? As Katherine is drawn into an obsessive power struggle with the intern, a disturbing picture emerges of two women hiding dark secrets – and who are desperate enough to do anything to come out on top…

Breathlessly addictive and deeply unsettling, Precious You is a thriller like no other. Taut, terrifying and with shocking twists at every turn, it will keep you guessing until the very last page.
---
---
Precious You probably appealed to me most of all because of the workplace rivalry aspect. There's something rather fascinating about the way young whippersnappers swoop in and everything is theirs for the taking, forcing the old guard out to grass.
Katherine is 41, the editor of Leadership magazine. Lily is 23 and one of a raft of interns working with Katherine, but Lily is different. She almost entrances Katherine, causing ructions from day one.
From the very beginning of this novel it feels like something is very off about these characters. We know in the first chapter what has happened later on in the story. I think I'd have preferred to let it unfold from beginning to end, but having said that it definitely got my hackles raised early on.
I couldn't help but sympathise with Katherine. Don't get me wrong, I wasn't at all fond of her but to watch everything she had worked for being systematically stripped away by Lily was absolute car crash fiction. Very hard to read but I couldn't stop.
With Katherine providing the majority of the story, with interjections from Lily, this is such an incredibly introspective novel and I must admit to sometimes finding it hard to engage. Yet then it would pull me right back in, leaving me wide-eyed at what was taking place. To be honest, there were times I wanted to throw the book across the room (but I'd never do that to a book, of course) – I felt such a visceral reaction to what was occurring. I was furious on Katherine's behalf.
This is a book that will divide people. Actually, it divided me. I was a bit repulsed, a bit freaked out, a bit angry, and for the most part I was gripped. It's actually quite frightening, the hold some people seem to get on others, like a dog with a toy that they won't let go of, slowly ripping it to shreds. It's a chilling story of workplace jealousy. I hope I never meet anyone like Katherine or Lily!
---

---
Helen Monks Takhar worked as a journalist, copywriter and magazine editor having graduated from Cambridge in 1997. She began her career writing for financial trade newspapers in 1999 before contributing to UK national newspapers including The Times and The Observer. Born in Southport, Merseyside in 1976, she lives in North London with her husband and two daughters. Precious You is her first novel.