ShortBookandScribes #BookReview – People Like Us by Louise Fein @HoZ_Books #FightForTheirLove #BlogTour
It's my stop on the blog tour for this amazing book. My thanks to Vicky Joss from Head of Zeus for sending a gorgeous proof copy of the book for review purposes and for the place on the tour. It came beautifully wrapped in a map of Leipzig, where the book is set, along with German cakes/biscuits.
---

---
Leipzig, 1930's Germany.

Hetty Heinrich is a young girl growing up under Nazi rule. With an SS officer father, a brother in the Luftwaffe and a member of the BDM, Hetty is the epitome of a perfect German child.

But Walter changes everything. Blond haired, blue-eyed, perfect in every way Walter. The boy who saved her life. A Jew.

As she falls more and more in love with a man who is against all she has been taught, Hetty begins to question everything. Will the steady march of dark forces destroy their world, or can love ultimately triumph?

Perfect for fans of The Tattooist of Auschwitz, The Book Thief and Kate Furnivall.
Buy links:
---

---
Wow, just wow. This book is something very, very special indeed.
It's the story of the perfect German girl, Hetty Heinrich, and her Jewish friend from childhood, Walter Keller. When Hetty was only 7 Walter, then the good friend of her brother, Karl, rescued her from drowning. From then it was as though there was an invisible thread joining them together. It's only when they are teenagers and the threat of war is on the horizon that they become much closer, but it's so dangerous. Hetty's father is rising in the ranks of the SS and Hetty is devoted to Hitler and all he stands for, whereas everything Walter and his family have ever known is being taken from them.
The book is set in those years running up to the onset of the Second World War and although I obviously knew of the persecution of the Jews at that time, this story shows it from a different angle: that of a patriotic German beginning to realise the path the country is taking is the wrong one.
I remember what Vati said about all the Jews who still live in Gohlis. How they persist, like vermin. Anger stirs inside me. These are people, like us, not rats.
I just can't do justice to this book in my review and how I felt about it and how deeply it affected me. I cried several times and knew it would break me, and the ending had me in floods of tears. It's incredibly beautifully written and it's one of the best books about this period and the plight of the Jews that I have ever read. Louise Fein skilfully portrays the dilemmas Hetty faces and my heart was regularly in my mouth. At times I was so disappointed by her behaviour and yet I understood it too. I also found her incredibly courageous in the face of dictatorship.
Fein has used her own family's story as inspiration and combined it with extensive research to create something that is emotive, heart-rending, truly shocking and yet also an exquisite depiction of love, pain and loss.
There is absolutely no way on earth this book won't be on my top reads of the year list. It is truly spectacular.
---

---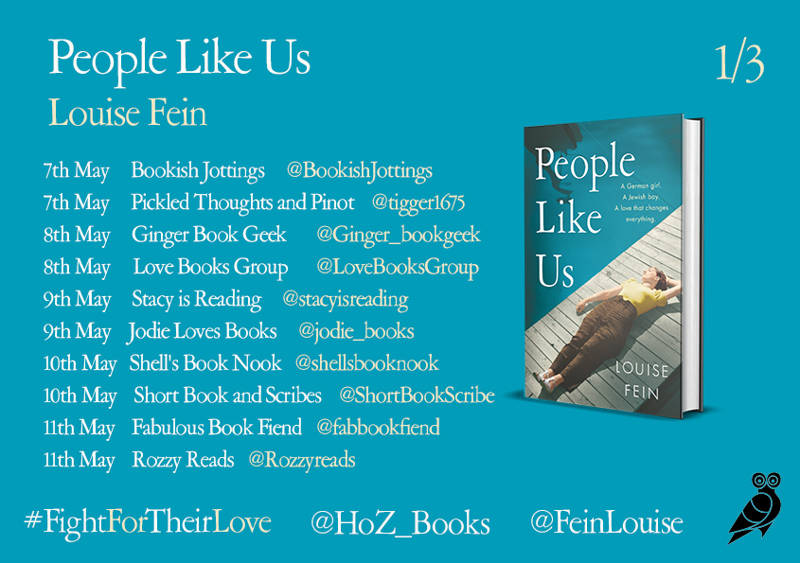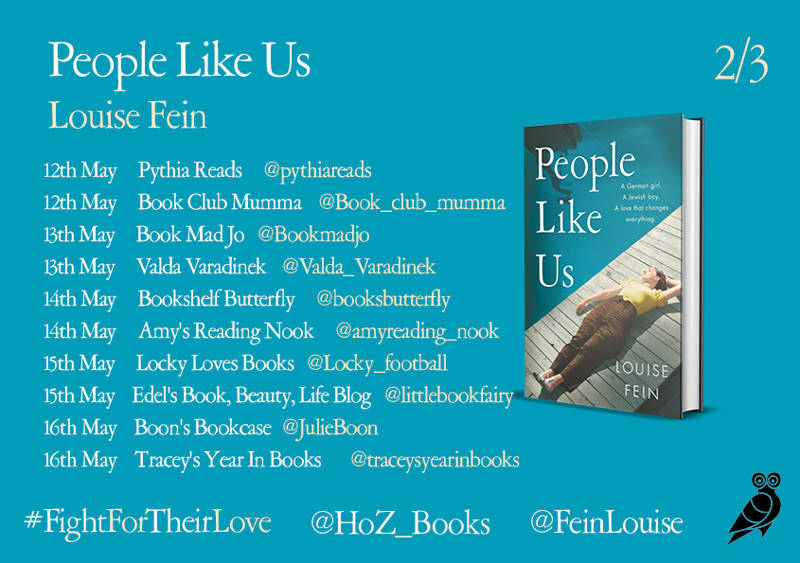 ---
---
Louise Fein holds an MA in Creative Writing from St Mary's University. Prior to studying for her master's, she ran a commodity consultancy business following a career in banking and law. She lives in Surrey with her family. People Like Us is inspired by her family history, and by the alarming parallels she sees between the early 30s and today.
Follow Head of Zeus: