ShortBookandScribes #BookReview – Other Women by Jean Levy #BlogTour
It's my stop on the blog tour for Other Women by Jean Levy. I loved this book! My thanks to Emily Glenister from Dome Press for the copy of the book and the place on the tour.
---

---
Sophie thought she and Jonah were happy, bringing up their small daughter, until one summer's day, she discovers that Jonah is far from the man she thought he was. Sam – an attractive English teacher – seems to offer her some comfort, and new friendships are a support.

But is Sam really who he says he is? Where have her new friends appeared from? Is anyone telling the truth? As Jonah's lies threaten Sophie and her daughter, can anyone be trusted?
---

---
At first glance this seemed like a book that was right up my street. A psychological/domestic thriller with lots of secrets and mysterious people turning up in Sophie's life. I wasn't wrong – I loved it!
At the beginning of the book Sophie is happy with her life. She lives with Jonah in a house that was once her mother's. They have a baby, Laura, and all is good. However, all that is rapidly smashed to pieces as Sophie discovers that Jonah isn't quite all he says he is. Jonah's dodgy dealings bring Sam and Suzie to her door, people whom she trusts and likes, but are they all they seem? Can they really be trusted? Sophie is about to go on quite a steep journey of discovery!
One thing that struck me immediately about Jean Levy's writing was her attention to detail, the fact that she gives a lot of information about each character and what they are doing, and that was something that I particularly enjoyed. I felt able to immerse myself into Sophie's life and follow her negotiations of the rollercoaster twists and turns her life takes as it goes from completely ordinary to bewilderingly complex.
I also really enjoyed the domestic nature of it. Whilst there are brief snippets that give clues as to what criminal activities Jonah was actually up to, this is essentially a story of how a woman gets her life back after being betrayed. I loved Sophie. At times I wanted to shake her for caring about things so much, and for being a bit reckless when she shouldn't have been, but I thought she was actually very brave, a bit feisty and a genuinely nice person.
And then, amongst all the domestic drama, police investigations and dodgy dealings, we are treated to little bursts of humour that made me smile. Levy employs a dry wit at times that I really enjoyed.
I thought this was a brilliant read. It really thrust me into the heart of the action, I enjoyed the characterisations (particularly Sam who is just divine!) and the unfolding mystery, and it's just a really cracking story. I definitely want to go back and read Levy's first novel now.
---

---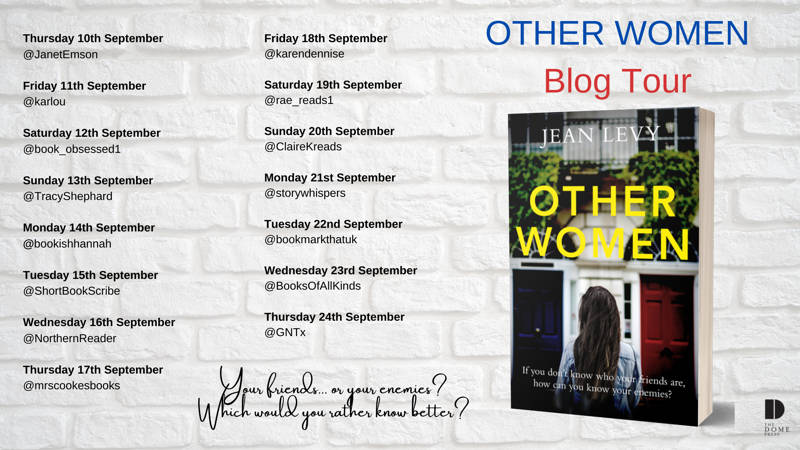 ---
---
Jean spent several years in genetics research before abandoning the laboratory to pursue a career in academic publishing both in Holland the UK. She has been a database troubleshooter, an editor, and a writer for publishing houses, pharmaceutical companies and the EU. She has degrees in Botany, Pathology, Philosophy, English, Law and Creative Writing and is currently completing a doctorate in Linguistics.
In her spare time she has campaigned for the environment and read a lot of books, the most memorable being Alice in Wonderland, Pride and Prejudice, everything by Margaret Atwood and Jeanette Winterson, and a few things by Sebastian Faulks, Calvino, Ian McEwan, David Mitchell and Shakespeare.
She currently lives in a converted barn in the South Downs with her husband and a
Heritage Plant Collection, accumulates Christmas tree decorations and aspires to writing
multi-genre fiction, travelling on the Orient Express and seeing the Northern Lights.