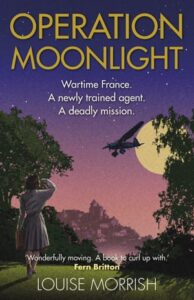 ShortBookandScribes #BookReview – Operation Moonlight by Louise Morrish
Operation Moonlight was published by Century on 21st July in hardcover, eBook and audiobook. My thanks to Isabelle Ralphs for the proof and finished copy for review.
---

---
1944: Newly recruited SOE agent Elisabeth Shepherd is faced with an impossible mission: to parachute behind enemy lines into Nazi-occupied France and monitor the new long-range missiles the Germans are working on.

Her only advice? Trust absolutely no one. With danger lurking at every turn, one wrong move for Elisabeth could spell instant death.

2018: Betty is about to celebrate her 100th birthday. With her carer Tali at her side, she receives an invite from the Century Society to reminisce on the past.

Remembering a life shrouded in secrecy and danger, Betty remains tight-lipped. But when Tali finds a box filled with maps, letters and a gun hidden in Betty's cellar, it becomes clear that Betty's secrets are about to be uncovered . . .

Nostalgic, heart-pumping and truly page-turning, OPERATION MOONLIGHT is both a gripping read and a novel that makes you think about a generation of women and men who truly knew what it meant to survive.
---
---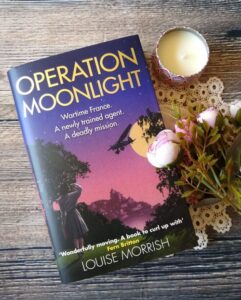 Operation Moonlight is a gorgeous dual timeline story about one woman's bravery in World War II.
In 2018 Betty is about to celebrate her 100th birthday and somewhat reluctantly accepts an invitation to join a society for other centenarians. This, along with discoveries made by Betty's carer Tali, bring back Betty's memories of her time as an SOE agent in 1944, when she parachuted into France for a dangerous mission.
Each timeline is equally riveting in different ways. The wartime story is nail-bitingly gripping, from Betty's recruitment and training to her time in France where she puts her life on the line for her country. The 2018 story is not quite so edge of the seat, but is a delightful story of a woman and her carer, and the approaching finale of a long life lived.
It's such a lovely debut novel, moving and enthralling, and such an important storyline to remind us of the courageous acts that helped bring the war to an end. Betty's heroism shines through not just in 1944 but throughout the remainder of her life and I thought she was a brilliant and feisty character. I also loved the side story of Tali and how Betty gave her the courage to live her own life too.
Louise Morrish is a very talented writer and has obviously researched the SOE agents' part in the war meticulously. I can't wait to see what she writes next. Operation Moonlight was a real joy to read from start to finish.
---

---
Louise Morrish is a Librarian whose debut novel won the 2019 Penguin Random House First Novel Competition in partnership with the Daily Mail. She finds inspiration for her stories in the real-life adventures of women in the past, whom history has forgotten. She lives in Hampshire with her family.