ShortBookandScribes #BookReview – Only a Mother by Elisabeth Carpenter @LibbyCPT @OrionBooks #BlogTour
Ooh, this was a fabulous read and so I'm pleased be to reviewing it today as part of the blog tour. My thanks to Tracy Fenton for the spot on the tour and to Alex Layt from Orion for the review copy.

ONLY A MOTHER . . .
Erica Wright hasn't needed to scrub 'MURDERER' off her house in over a year. Life is almost quiet again. Then her son, Craig, is released from prison, and she knows the quiet is going to be broken.
COULD BELIEVE HIM
Erica has always believed Craig was innocent – despite the lies she told for him years ago – but when he arrives home, she notices the changes in him. She doesn't recognise her son anymore.
COULD LIE FOR HIM
So, when another girl goes missing, she starts to question everything. But how can a mother turn her back on her son? And, if she won't, then how far will she go to protect him?
COULD BURY THE TRUTH
---
I appear to have Elisabeth Carpenter's first two books (99 Red Balloons and 11 Missed Calls, in case you were wondering), waiting for me on my TBR pile. I must rectify this as I enjoyed her latest offering, Only a Mother, very much indeed.
In fact, this is a book I found hard to put down, racing through the final 120 pages in one go. The story is told mostly from two characters' points of view: Erica's in the first person and Luke's in the third. Erica is the mother of Craig, a man who has been in prison for years for the murder of a young girl. When we first meet her, he is about to be released and she's wondering what life will be like with him back living with her after so long.
Luke is a journalist on the local newspaper. He lacks the ambition of some reporters but is always looking for a story. He's also probably far too kind and thoughtful for cut-throat journalism, but it made me take to him as a character.
Luke is obviously interested in Craig's release as a story, especially when another girl goes missing soon after. But this is really not the story of missing girls, it's very much a look at how a mother copes with the incarceration of her child. Erica is targeted by the local community, pretty much ostracised and lives a lonely life. I thought this angle was so interesting and it really made me think about how you deal with something like this as a parent.
Whilst not a story filled with action, I found it really fast-paced and exciting, one of those books I couldn't wait to get back to. I think the strength is very much in the characterisations, especially Erica who I thought had a compelling voice.
I must admit that there were no surprises for me in the plot. I guessed which way it was going fairly early on, but I didn't mind that. Whilst those 'OMG' moments are great, if a book is well-written it needs only that to hook me and reel me in. Only a Mother definitely fits the bill.
---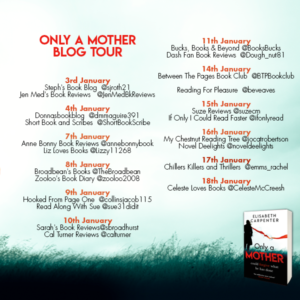 ---

Elisabeth Carpenter lives in Preston with her family. She was awarded a Northern Writers' New Fiction award, and was longlisted for Yeovil Literary Prize (2015 and 2016) and the MsLexia Women's Novel award (2015).