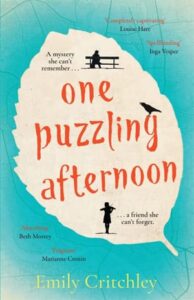 ShortBookandScribes #BookReview – One Puzzling Afternoon by Emily Critchley
One Puzzling Afternoon by Emily Critchley will be published by Zaffre on 25th May 2023 in hardcover, ebook and audiobook. My thanks to Elinor Fewster for the proof copy.
---

---
A captivating mystery perfect for fans of Joanna Cannon and Elizabeth is Missing

On a suburban street filled with secrets, 84 year old Edie Green must look back into the past to discover what happened to her friend Lucy, who went missing years before . . .

I kept your secret Lucy. I've kept it for more than sixty years . . .

It is 1951, and at number six Sycamore Street fifteen-year-old Edie Green is lonely. Living alone with her eccentric mother – who conducts seances for the local Ludthorpe community – she is desperate for something to shake her from her dull, isolated life.

When the popular, pretty Lucy Theddle befriends Edie, she thinks all her troubles are over. But Lucy has a secret, one Edie is not certain she should keep . . .

Then Lucy goes missing.

2018. Edie is eighty-two and still living in Ludthorpe. When one day she glimpses Lucy Theddle, still looking the same as she did at fifteen, her family write it off as one of her many mix ups. There's a lot Edie gets confused about these days. A lot she finds difficult to remember. But what she does know is this: she must find out what happened to Lucy, all those years ago . . .
---

---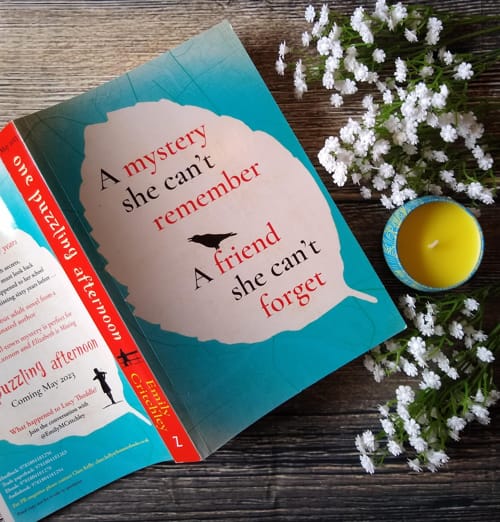 If a book is described as being for fans of Joanna Cannon and Elizabeth is Missing (by Emma Healey) then I'm pretty certain I'm going to want to read it. One Puzzling Afternoon very much fits into this description.
The scenes swap between 2018 and 1951. In the 2018 storyline Edie is 84 and becoming more and more confused. One day, she gets a glimpse of her friend, Lucy, who disappeared when they were both 15 in 1951. Edie knows that the mystery of what happened to Lucy was never solved and she knows that now is the time for her to find out.
Edie narrates both timelines and it's clear that in 2018 she's getting very muddled. Emily Critchley does an amazing job at portraying this both sympathetically and truthfully. The inner workings of Edie's mind are all there on the page and because of this she's unreliable. This is where the 1951 timeline fills in all the blanks and interweaves perfectly with Edie's current situation to gradually give us the full picture of what happened in the run-up to Lucy's disappearance.
The images of Edie's youth are so evocative of the early after-war years and I was transported back to a time when so much was still on ration. Edie's mother holds séances and tells fortunes to make ends meet and Edie's home and school life were described so well that the 1950s just came alive.
One Puzzling Afternoon is a beautiful book, poignant and moving, with Edie's memories fluttering away one by one, irretrievable as they go. I love a dual timeline story, especially when there's a mystery involved, and the mystery in this book is a clever one. This is an extremely accomplished debut adult novel that really hit the spot for me. I loved it.
---
---
Emily Critchley grew up in Essex. She has lived in Brighton and London and now lives in Hertfordshire where she works as a librarian. She has a first class BA in Creative Writing from London Metropolitan University and an MA with distinction in Creative Writing from Birkbeck University of London. Her YA debut Notes on my Family was nominated for the Carnegie, long listed for the Branford Boase, and book of the week in the Sunday Times, and her middle grade novel The Bear who Sailed the Ocean on an Iceberg was published in October 2021, both by independent publisher Everything With Words. One Puzzling Afternoon is her debut adult novel.