ShortBookandScribes #BookReview – One Enchanted Evening by Katie Fforde #BlogTour
Today is my stop on the blog tour for Katie Fforde's latest book, One Enchanted Evening. It's published by Century and available now in hardcover, eBook and audiobook.
My thanks to Courtney Jefferies from edpr and the publishers for the proof and finished copies and the place on the tour.
---

---
Ever since she can remember, Meg has wanted to be a professional cook.

But it's 1964, and in restaurant kitchens all over England it is still a man's world.

Then she gets a call from her mother who is running a small hotel in Dorset.

There's an important banqueting event coming up. She needs help and she needs it now!

When Meg arrives, the hotel seems stuck in the past. But she loves a challenge, and sets to work.

Then Justin, the son of the hotel owner, appears, determined to take over the running of the kitchen.

Infuriated, Meg is determined to keep cooking – and soon sparks between them begin to fly.

Will their differences be a recipe for disaster? After all, the course of true love never did run smooth…
---

---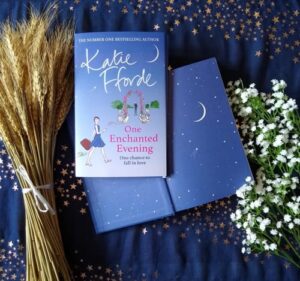 It's 1964 and Meg's mother asks her to come to Nightingale Woods to help out with a big event. Nightingale Woods is a quaint, rather rundown hotel in Dorset and Meg is a cook. She hotfoots it there, happy to help out, even when Justin, the son of the owner, turns up and is rather rude to her, especially about women in the kitchen (he's a chef too).
This is a Katie Fforde book though so all will be well between them and for Meg in general. She settles into the hotel, becoming friends with the staff and Ambrosina, an elderly lady who lives there. Many of her friends, quite a few of whom I recognised from A Wedding in Provence, make appearances too and everybody is jolly lovely….well, with the exception of one or two rather tricky characters.
One Enchanted Evening is a complete and utter delight of a book. I was drawn in immediately and I absolutely loved Meg who is young, yet knows her own mind, and is friendly and kind. I also took rather a liking to motorbike-riding Justin, stomping around in his black leathers with a smell of petrol and road dust…..err, excuse me a moment whilst I fan myself.
The hotel is charming, a place I'd love to stay at with its welcoming and homely feel and beautiful location. Meg goes to France for a while too and I enjoyed her time working in a restaurant there. But what really sold this book to me was the romance, the spark between Meg and Justin, and the way their relationship develops throughout the book made my heart sing. It was just so sweet and lovely to watch their burgeoning feelings for each other grow.
So, in case you hadn't guessed, I loved, loved, loved One Enchanted Evening. Katie Fforde doesn't just sell a romance to her readers, she sells a package, a dream. I found this book to be an absolute joy from start to finish.
---

---
---
---
Katie Fforde lives in the beautiful Cotswold countryside with her family, and is a true country girl at heart. Each of her books explores a different profession or background and her research has helped her bring these to life. She's been a porter in an auction house, tried her hand at pottery, refurbished furniture, delved behind the scenes of a dating website, and she's even been on a Ray Mears survival course. She loves being a writer; to her there isn't a more satisfying and pleasing thing to do. She particularly enjoys writing love stories. She believes falling in love is the best thing in the world, and she wants all her characters to experience it, and her readers to share their stories.
To find out more about Katie Fforde step into her world at www.katiefforde.com, visit her on Facebook and follow her on Twitter @KatieFforde.