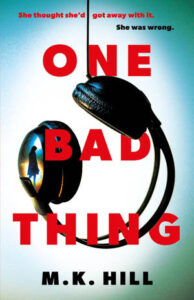 ShortBookandScribes #BookReview – One Bad Thing by M.K. Hill
Today I'm sharing my thoughts about One Bad Thing by M.K. Hill. I was on the blog tour for this book last week when I shared an extract. You can find the post, with details of the book and author, here. Once again, thank you to the publishers, Aries Fiction, and Sophie Ransom PR for the review copy of the book.
---

---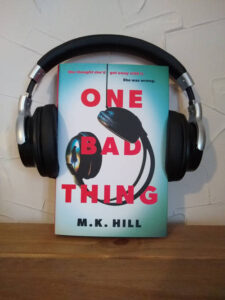 One Bad Thing is the first book I have read by M.K. Hill but based on the exciting ride I've just had I'll definitely read his books in the future.
We've all done things we regret but Hannah Godley's one bad thing is about to come back and haunt her, right on the cusp of her new role as TV agony aunt on a popular daytime show. A woman calls her radio show and vows revenge for her brother's death. Hannah is left reeling and attempts to contact the woman to find out just what she has planned. As you can imagine, she's on a knife-edge.
This is one of those books I didn't want to put down and when I did, I couldn't wait to pick it up again. It's fast-paced and gripping, and I really liked the plotline of a woman known as the Queen of Hearts being hounded for a mistake in her past. I didn't completely take to Hannah but I did feel sorry for her as everything started to fall apart in her previously well-ordered life. I didn't know which character to trust as things start to happen to Hannah and totally freak her out.
The writing is really good quality and the story went along at a great speed. I enjoyed the process of putting it all together as I read and trying to work out if the outcome was going to be what I thought or not (it pretty much was!). I really enjoyed this excellent psychological thriller. Secrets and lies from the past and present intermingle to provide a truly thrilling story and I recommend it for people who like a twisty and exhilarating read.