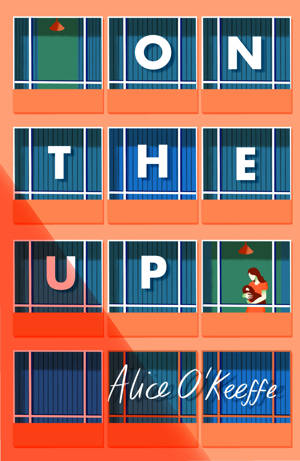 ShortBookandScribes #BookReview – On the Up by Alice O'Keeffe @CoronetBooks #BlogTour
I'm so pleased to be reviewing this lovely read today. My thanks to Jenny Platt from Hodder for the place on the tour and for sending me a copy of the book for review purposes.
---
By reading Style magazine, I was training myself not to want things. It was going quite
well. I had already found that I did not want a pair of Yves Saint Laurent mules, a
chandelier made from plastic antlers, or a diamond-encrusted necklace in the shape of a
pineapple. I was still working on not wanting a fitted farmhouse kitchen in warm wood.

Sylvia lives in a flat on a council estate with her not-quite-husband Obe and their two
young children. She dreams of buying a house on a leafy street like the one she grew up
in. If she closes her eyes, she can see it all so clearly: the stripped floorboards, the
wisteria growing around the door…

It's not ideal that she's about to be made redundant, or that Obe, a playworker, is never
going to earn more than the minimum wage. As sleep deprivation sets in, and the RnB
downstairs gets ever louder, Sylvia's life starts to unravel.

But when the estate is earmarked for redevelopment, the threat to her community gives
Sylvia a renewed sense of purpose. With a bit of help from her activist sister, and her filmmaker friend Frankie, she's ready to take a stand for what she believes in.
---

On The Up is an absolutely lovely book. Although the blurb gave me an idea of what the story was going to be about, there are so many more themes bubbling away underneath the surface.
Sylvia and Obe live with their two children, The Toddler and That Baby (otherwise known as Larkin and Eliot) in Priory Court, a block of flats in London. Sylvia hates it there; there's constant noise from her downstairs neighbour which she is documenting for the authorities, it's grey, it's concrete, there's no garden for her children to play in. In short, she dreams of a better life. Yet Obe doesn't share her dreams and seems to have no ambition to get away from Priory Court. All he wants to do is quote poetry at her!
I loved how subtle the writing is. Sylvia is the narrator and most of the time she doesn't have to say exactly what she's thinking, I just knew. She's such a well-rounded character and I felt like I totally understood her. Even when she was verging on the irrational I got her. She's drowning in her life and they can't afford to buy even the grottiest house on the outskirts of London, let alone somewhere half decent. And yet, when Priory Court is earmarked for demolition she finds something to fight for and a reason for living.
In many ways On The Up is a light-hearted book. I found myself smiling or laughing to myself quite a lot, and yet it's all there under the surface as I said. Money worries, job woes, life with young children and post-natal depression are all explored.
I just loved Sylvia and I loved this uplifting story of life, hope, friendships, community spirit, and having something to believe in. I liked the London elements that were proving so hard for Sylvia to deal with, and I really loved the ending. This is the sort of book you close with a sigh of satisfaction and a smile on your face.
---

---

Alice O'Keeffe is a freelance writer and journalist. She was deputy editor of the Guardian's Saturday Review section, and writes book reviews, interviews and features for the Guardian, Observer and New Statesman. She has been a speechwriter at the Department for Education and literary programmer at the Brighton Festival. Alice lives in Brighton with her husband and two children.