ShortBookandScribes #BookReview – On Hampstead Heath by Marika Cobbold
My review today is of On Hampstead Heath by Marika Cobbold, a little gem of a book. My thanks to Georgina Moore of Midas PR for the proof copy of the book for review purposes. It will be published by Arcadia Books on 15th April in hardback and ebook.
---

---
Thorn Marsh was raised in a house of whispers, of meaningful glances and half-finished sentences. Now she's a journalist with a passion for truth, more devoted to her work at the London Journal than she ever was to her ex-husband.

When the newspaper is bought by media giant The Goring Group, who value sales figures over fact-checking, Thorn openly questions their methods, and promptly finds herself moved from the news desk to the midweek supplement, reporting heart-warming stories for their new segment, The Bright Side, a job to which she is spectacularly unsuited.

On a final warning and with no heart-warming news in sight, a desperate Thorn fabricates a good-news story of her own. The story, centred on an angelic apparition on Hampstead Heath, goes viral. Caught between her principles and her ambitions, Thorn goes in search of the truth behind her creation, only to find the answers locked away in the unconscious mind of a stranger.

Marika Cobbold returns with her eighth novel, On Hampstead Heath. Sharp, poignant, and infused with dark humour, On Hampstead Heath is an homage to storytelling and to truth; to the tales we tell ourselves, and the stories that save us.
---

---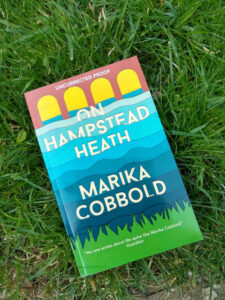 On Hampstead Heath may be a relatively short read at 248 pages but it's certainly a mighty one. Thorn Marsh is a journalist, a news editor at a London newspaper when she finds that all of a sudden her face no longer fits with the new managing editor. She's cast aside to a supplement focusing on cheery stories, not her thing at all. In a fit of pique and in the throes of a drunken haze she writes a piece that has only a vague semblance of truth to it. The repercussions of Thorn's deception ripple down through the book.
The plot of this novel is inspired, focusing on how much truth there is in the press (or lack thereof), the advent of the digital age slowly killing off the newspaper, and all that social media has to answer for in the current news climate. It's the writing and the characterisations that really stood out for me though. Marika Cobbold's narrative for Thorn is a work of genius, the dialogue sublimely sharp and her inner thoughts so astute and perfectly observed. I found it so darkly funny. There is one scene in particular where Thorn visits her mother whose old friend, Joan Pyke, is there. Thorn's acerbic thoughts on seeing Joan were thrown at me like knives from a knife-thrower, one after the other, never letting up, and I just couldn't stop laughing. I kept re-reading certain sections of the book as a whole, marvelling at the way they were written and the pointed scrutiny of everyday situations and human foibles.
Thorn is a brilliant creation but every character in this book is perfect, slotting into their places in Thorn's life, however large or small a part. Her relationships with her family, her friends and her colleagues all seem to be rather complicated but also very real, and I found them absolutely compelling.
I thought this was a fabulous read. It's wise and perceptive, honest and witty. I think that whenever I need a good laugh I will think about Joan Pyke! This is the sort of book that belongs on prize lists.
---
---
Marika Cobbold was born with newspaper ink flowing through her veins. She used to visit her father and grandfather at their offices at the Gothenburg-Post, the Swedish broadsheet her grandfather had rescued from oblivion decades earlier.
At home, when Marika wasn't reading, she listened as the grown-ups around her discussed the issues of the day, and to the stories told by her mother and great aunt, who was a writer.
She left Sweden for England when she was nineteen, with vague plans of studying law, but eventually what her grandfather called 'the family curse' caught up with her, and some years later she wrote her first novel, Guppies For Tea. She has been writing ever since.