ShortBookandScribes #BookReview – Notebook by Tom Cox #BlogTour #RandomThingsTours
It's my stop on the blog tour for Notebook by Tom Cox which is a little gem of a book. My thanks to Unbound for the review copy of the book and to Anne Cater of Random Things Tours for the place on the tour.
---

---
Sure, sex is great, but have you ever cracked open a new notebook and written
something on the first page with a really nice pen?

The story behind Notebook starts with a minor crime: the theft of Tom Cox's rucksack from a Bristol pub in 2018. In that rucksack was a journal containing ten months worth of notes, one of the many Tom has used to record his thoughts and observations over the past twelve years. It wasn't the best he had ever kept – his handwriting was messier than in his previous notebook, his entries more sporadic – but he still grieved for every one of the hundred or so lost pages.

This incident made Tom appreciate how much notebook-keeping means to him: the act of putting pen to paper has always led him to write with an unvarnished, spur-of-the-moment honesty that he wouldn't achieve on-screen.

Here, Tom has assembled his favourite stories, fragments, moments and ideas from those notebooks, ranging from memories of his childhood to the revelation that 'There are two types of people in the world. People who fucking love maps, and people who don't.'

The result is a book redolent of the real stuff of life, shot through with Cox's trademark warmth and wit.
---

---
This is my first Tom Cox book but I've been following him on various social media sites for a long time and I had a feeling I would enjoy Notebook because I enjoy his musings on so many things from nature to flared trousers and everything in between. I wasn't wrong. Notebook is an absolute pleasure from start to finish. It has a really calming feel to it and it flows perfectly despite it consisting of seemingly random snippets placed together (although they are curated into chapters of similar material).
It's a thin volume so it didn't take very long to read, but it's chock-full of delightful anecdotes, all taken from notebooks filled by Cox. You could read it slowly, taking it one or two notes at a time, or you could read it in a couple of greedy gulps as I did. I loved the author's writing style, with a fabulous and eclectic selection of intelligent thoughts and observations, and humorous vignettes. He writes beautifully and with care about his surroundings, the landscape and the animals in and around it, and then swiftly side-steps into an exchange with his father which, without fail, always made me laugh.
To further enthral the reader, the book contains striking illustrations from both of his parents for the first time which makes this into quite the family affair. Notebook is a gorgeous little read. If I could write as eloquently as Tom Cox then I'd be scribbling away all the time but alas the best I can manage is a shopping list. Thankfully, there are collections like this that provide thoughtful and poetic food for the mind. Notebook ought to be available on prescription.
---

---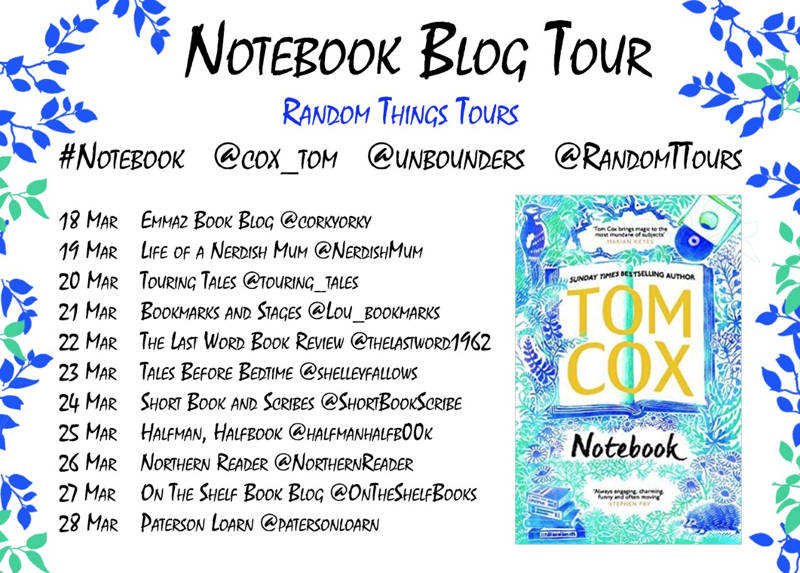 ---
---
Tom Cox lives in Norfolk. He is the author of the Sunday Times bestselling The Good, The Bad and The Furry and the William Hill Sports Book longlisted Bring Me the Head of Sergio Garcia. 21st-Century Yokel was longlisted for the Wainwright Prize, and the titular story of Help the Witch won a Shirley Jackson Award.
@cox_tom