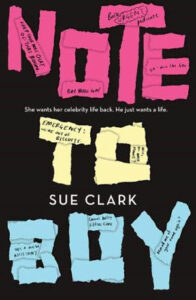 ShortBookandScribes #BookReview – Note to Boy by Sue Clark
Today I'm sharing my thoughts about Note to Boy by Sue Clark which is published by Unbound. My thanks to the author for the review copy of the book. You can currently buy the eBook for 99p.
---

---
Eloise is an erratic, faded fashionista. Bradley is a glum but wily teenager. In need of help to write her racy 1960s memoirs, the former 'shock frock' fashion guru tolerates his common ways. Unable to remember his name, she calls him Boy. Desperate to escape a brutal home life, he puts up with her bossiness and confusing notes. Both guard secrets. How did she lose her fame and fortune? What is he scheming – beyond getting his hands on her bank card? And just what's hidden in that mysterious locked room?
---

---
Note to Boy: find out about that book by Sue Clark. It's supposed to be brilliant.
The boy in the title is Bradley McCreedy, a young man with a turbulent home life with his flaky mother and bullying older brother. He sees an ad in the local shop for a domestic assistant to a lady authoress and applies. The lady in question is Miss Eloise Slaughter, a faded glamourpuss with a high opinion of herself. Bradley has no idea who she is but slowly he settles into his time with Eloise, searching for her beloved Gypsy Cream biscuits and listening to her tell her story via her unfolding memoirs.
I've got to admit that I didn't particularly like either character for the most part and yet I was thoroughly engaged by them. An unlikely duo, each offers the other something they have been lacking: in Eloise's case it's somebody to look after her, to take notice of her and to see beyond her faded façade; in Bradley's case it's a place of safety and a chance to make more of himself for the first time.
Eloise's story is a rather torrid one of ups and downs, a former fashion icon who made some unfortunate decisions. I loved reading it and thought the author wrote her story with some very interesting parallels to real fashion milestones. There's a locked room in Eloise's flat, one which interests Bradley no end. What is behind it and why is it hidden away?
Note to Boy is a very clever and original read. It's sharp and witty, but also insightful and quite sad when you think about it. Bradley thinks about Eloise: "Her face looks old, but not her eyes. When I stare into them, funny thing is, I don't see an old lady. I see all the lives she's lived before, the people she used to be." I love the way Bradley recognises that whatever Eloise is now, she has so many memories, so much to share and so much still to give.
Clark has, in her debut novel, given us a satirical, entertaining and very readable book. I loved the relationship that developed between the two main characters, almost like grandmother/grandson but with a few sparks thrown in. It's great fun and would make a great play or TV show.
---
---
Sue Clark has grilled John Humphreys, quipped with Ronnie Corbett, danced with one James Bond and had a one-sided conversation with another, and penned funny lines for the likes of Lenny Henry, June Whitfield, Roy Hudd and David Jason. She's been a BBC radio and TV comedy scriptwriter on such shows such as Alas Smith and Jones, Weekending, The News Huddlines and The Jason Explanation, a copywriter, a PR, a journalist, a magazine editor, a writer of guidebooks, a secretary and was, briefly, paid to read books all day long for a film producer. And now she's written a novel.
Twitter: @sueclarkauthor
Facebook: SueClarkAuthor
sueclarkauthor.com