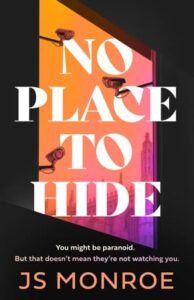 ShortBookandScribes #BookReview – No Place to Hide by JS Monroe
No Place to Hide by JS Monroe is published by Head of Zeus/Aries and is available now in hardcover and ebook. My thanks to the publishers for the proof copy.
---

---
You might be paranoid, but that doesn't mean they're not watching you.

Adam lives a picture-perfect life: happy marriage, two young children, and a flourishing career as a doctor. But Adam also lives with a secret. Hospital CCTV, strangers' mobile phones, city traffic cameras – he is convinced that they are all watching him, recording his every move. All because of something terrible that happened at a drunken party when he was a medical student.

Only two other people knew what happened that night. Two people he's long left behind. Until one of them, Clio – Adam's great unrequited love – turns up on his doorstep, and reignites a sinister pact twenty-four years in the making…

No Place to Hide is a spellbinding tale of psychological suspense, weaving together the dark web, murder, and blackmail…
---
---
I always enjoy JS Monroe's writing but I have to say that No Place to Hide exceeded my already high expectations. I found this book to be absolutely addictive.
Dr Adam Pound is a respected paediatrician. He's happily married to Tania and has two lovely children. His life is good apart from his paranoia about being filmed – the new CCTV camera on his street is a big concern – and the unexpected reappearance of Clio, the one that got away from his years at Cambridge, which changes everything.
The story bounds along at a fast pace with chapters in the present alternating with chapters telling the story of what happened at Cambridge, perfectly blended so that as each part of the story is revealed it further heightens the tension, building and building until the crescendo at the end. It's quite an intense read, both disturbing and disconcerting, and also completely believable. The reader travels into the murky world of the dark web, of blackmail, of panic, fear and suspicion. Monroe immersed me in Adam's world so completely and I was thoroughly absorbed in it from start to finish. I wouldn't recommend reading the exciting final scenes just before going to sleep though as I had some quite weird dreams that night. This is a tale that makes you start to question everything that technology offers us, both the good and the bad.
No Place to Hide is an utterly gripping and taut read which provided me with shock after shock within the story's many twists and turns. I thought it was tremendously well done, both frightening and sinister at times, but with a main character I really rooted for. This is what I call a psychological thriller!
---

---
J.S. Monroe worked as a foreign correspondent in Delhi and was Weekend editor of the Daily Telegraph in London before becoming a full-time writer. His psychological thriller Find Me became an international bestseller in 2017, and, under the name Jon Stock, he is also the author of five spy thrillers. He lives in Wiltshire and is currently the Royal Literary Fund Writing Fellow at Mansfield College, Oxford.