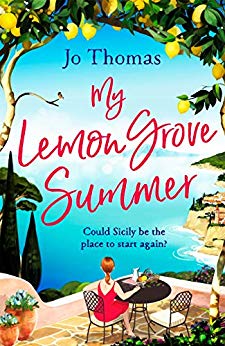 ShortBookandScribes #BookReview – My Lemon Grove Summer by Jo Thomas
I'm absolutely delighted to be reviewing My Lemon Grove Summer by Jo Thomas today. She's one of my favourite writers. I don't know what it is about her writing but even this article from Trip Fiction had me cooing over the experiences she had whilst researching this book.
My thanks to Anna Pallai for sending me a proof copy of this book for review purposes.
---
When life hands you lemons … is it ever too late for a second chance?

Zelda's impulsive nature has got her precisely nowhere up until now. A fresh start in a beautiful hilltop town in Sicily looking for new residents, together with her best friend Lennie, could be just what she needs. And who better to settle down with than the person who knows her best?

But the sun-filled skies and sparkling seas can't hide the shadow hanging over Citta d'Ora, which means not everyone is pleased to see their arrival. The dreams Zelda and her fellow new residents had of setting up a new life might be slipping away. But a friendship with restauranteur Luca could be about to unlock the possibilities that lie in the local lemon groves. And there's a wedding on the horizon that might be just what the town needs to turn it around…

Could a summer in Sicily help Zelda learn to trust her instinct and follow her heart?
---

Every time I start a new Jo Thomas book I know I am going to be transported to a new place with all the sensations that go with it. This time I've been to Sicily and I loved it there as much as I expected to. Italy is one of my favourite places in the world. Jo Thomas is one of my go-to authors, one I know I can rely on to write a story that will completely transport me away.
Zelda is almost 40, still single and after failing to make her shop work because of rising business rates, she's lost everything and is living in a rented room. Everything, that is, apart from the friendship of Lennie, a man who has always been there for her. When yet another man lets her down, Lennie reminds her that they once had a pact that if they got to 40 and hadn't settled down with anyone they would marry each other. In a fit of 'oh what the hell', Zelda agrees to honour the pact.
Now here's where the story really takes off. Lennie has seen an advert looking for people to move to a declining village in Sicily to bring new life to the area and he suggests to Zelda that that's exactly what they should do. And so off they go, embarking on their adventure together.
I loved the village. Jo Thomas describes it so beautifully that I felt like I was there. I could just imagine the ramshackle sight of the houses that needed renovating, balconies collapsing all over. Zelda meets a local man named Luca, who runs a restaurant (with hardly any customers) and she realises that maybe her pact with Lennie isn't such a great idea after all! Luca grows lemons and I just know they were the most beautiful lemons ever, those massive ones that Italy always seems to produce.
As usual with this author, there is a strong focus on the food and drink of the region. I was almost drooling at Luca's pasta with garlic and lemon and then salivating at the thought of the sharp and delicious limoncello. Food and setting is such a wonderful combination, one that works time after time after time. There's also a strong sense of the community pulling together, after a long time spent being pulled apart, and this provides such a heartwarming and lovely feel to the whole story. Zelda is quite a character, one who says what she thinks which just happens to be exactly what this community needs.
I closed the book feeling so happy and satisfied, but I did come back to earth with a bit of a bump after my trip to Sicily. I had such a brilliant time! I can't to see where Jo Thomas takes me next.
---

Jo Thomas worked for many years as a reporter and producer, first for BBC Radio 5, before moving on to Radio 4's Woman's Hour and Radio 2's The Steve Wright Show. In 2013 Jo won the RNA Katie Fforde Bursary. Her debut novel, The Oyster Catcher, was a runaway bestseller in ebook and was awarded the 2014 RNA Joan Hessayon Award and the 2014 Festival of Romance Best Ebook Award. Jo lives in the Vale of Glamorgan with her husband and three children.