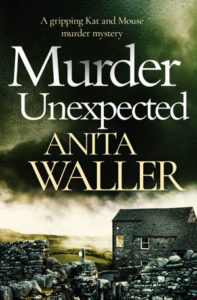 ShortBookandScribes #BookReview – Murder Unexpected by Anita Waller @anitamayw @Bloodhoundbook #BlogBlitz
I'm delighted to be reviewing Murder Unexpected by Anita Waller today as part of the blog Blitz. My thanks to Bloodhound Books for the place on the tour and the review copy of the book.
Kat and Mouse are back.

Church Deacon Kat and her friend Beth, known as Mouse, have started a private investigation business in the sleepy village of Eyam.

Kat, whose estranged criminal husband, Leon, is on the run, has a lot on her plate running the new business whilst heavily pregnant.

When a widow asks the sleuths for help, Kat and Mouse find themselves searching for the birth mother of the widow's husband. But when it becomes clear that the widow isn't telling the whole truth, Kat and Mouse are drawn into a deadly chase where nothing is what it seems.

Meanwhile, Kat's husband has come back to Eyam and has Kat in his sights.

Can Kat and Mouse solve the case and escape the dangerous Leon?

This time they might just be out of their depth…
---

I enjoyed Murder Undeniable, the first book in the Kat and Mouse trilogy (now, apparently, a quartet), but Murder Unexpected is my favourite so far. Kat Rowe, deacon of Eyam parish church returns with Mouse Walters and her feisty grandma, Doris. Their private investigating agency is up and running and it's going well, Kat's gangster husband is still on the loose and Kat is about to give birth.
So that's where we meet up with the characters again. Kat and Leon's situation plays a part in the story but this time we follow the energetic and determined women when they are consulted by a woman wanting to find her husband's birth mother. Of course, as is the norm here, nothing is straightforward and there's a lot more to it than at first meets the eye.
These books are more cosy crime than thriller, but there is a fair amount of violent crime nestled in there too (somebody usually gets their head blown off!) so you could say there's something for everyone.
I enjoy the warmth of the relationship between the three women. They have the kind of friendship that anyone would want and they also work well together as an investigation team. In this book I particularly enjoyed reading about the case they take on which spreads out and introduces quite a few other characters. Eyam seems to be the literary equivalent of Midsomer, with there being a crazy amount of crimes going on in a sleepy Derbyshire village, but I love it as a setting, particularly as it's fairly local to me. I like the village feel of everyone being familiar with everyone else – there's nowhere to hide!
All in all, an enjoyable read and an easy one too. I'm looking forward to finding out what the next instalment of the Kat and Mouse story has to offer. Without giving anything away, I'm hopeful for Kat's future after the way that Murder Unexpected ended.
---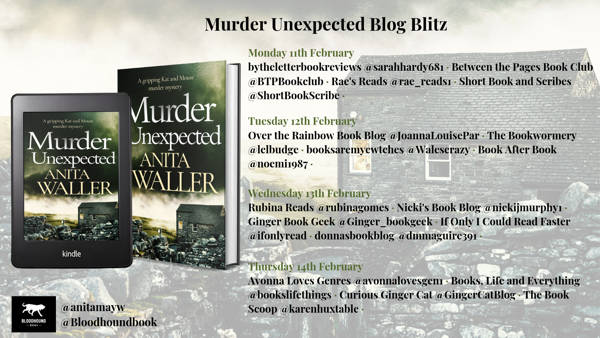 ---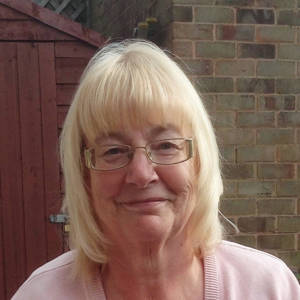 Anita Waller was born in Sheffield, South Yorkshire in 1946. She married Dave in 1967 and they have three adult children.
She has written and taught creative writing for most of her life, and at the age of sixty nine sent a manuscript to Bloodhound Books which was immediately accepted.
In total she has written seven psychological thrillers and one supernatural novel, and uses the areas of South Yorkshire and Derbyshire as her preferred locations in her books. Sheffield features prominently.
And now Anita is working on her first series, the Kat and Mouse trilogy, set in the beautiful Derbyshire village of Eyam. The first in the series, Murder Undeniable, launched 10 December 2018, and the second in the series, Murder Unexpected, launches 11 February 2019.
The trilogy has now been promoted to a quartet following the success of the first book; she is currently working on book three, Murder Unearthed. Book four doesn't have a title, a plot, a first sentence… but she remains convinced it will have!
She is now seventy-three years of age, happily writing most days and would dearly love to plan a novel, but has accepted that isn't the way of her mind. Every novel starts with a sentence and she waits to see where that sentence will take her, and her characters.
In her life away from the computer in the corner of her kitchen, she is a Sheffield Wednesday supporter with blue blood in her veins! The club was particularly helpful during the writing of 34 Days, as a couple of matches feature in the novel, along with Ross Wallace. Information was needed, and they provided it.
Her genre is murder – necessary murder.