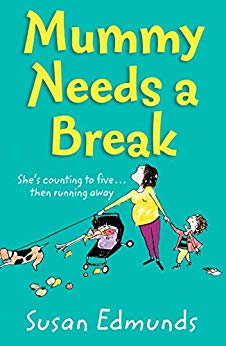 ShortBookandScribes #BookReview – Mummy Needs a Break by Susan Edmunds @susanedmunds @AvonBooksUK #BlogTour
Welcome to my stop on the blog tour for Mummy Needs a Break by Susan Edmunds. I'm reviewing the book today and would like to thank Sabah Khan from Avon for the place on the tour and for providing an e-copy of the book for review through Netgalley.
---
A hilarious story of the ups and downs of unexpected single motherhood, the perfect laugh-out-loud romance for fans of Why Mummy Drinks, The Unmumsy Mum and The Not So Perfect Mum.

With a devilish toddler and baby number two on the way, Rachel's big dream is to one day go to the toilet on her own. So, she's surprised to discover that her husband has found the time to have an exciting affair while she's been bringing up their family.

Suddenly, Rachel is left wrangling with a child who will only eat crackers and a 35-week bump. She knows even Mumsnet isn't going to solve this.

What Rachel needs is a handsome, good-with-children, single man. But she can barely leave the house without a stain on her top and child on her hip. How on earth can she claim her life back, let alone thinking about dating?
---

Mummy Needs a Break is a bit different to the kind of books I normally read but I enjoyed it for its light-heartedness, albeit with some more serious issues running through it.
Rachel is married to Stephen and is about to have their second child when she discovers that he's been having an affair. Their son, Thomas, is a bit of a handful and so the thought of coping with him and a new baby is daunting but she has no choice. I really felt for Rachel, particularly as Stephen is very irritating and shows no remorse for his behaviour and the position he leaves her in.
Somehow she keeps muddling through life, even when it keeps throwing more and more at her, such as problems with her job, having to move back to her parents' house etc, and I was really pleased at the inner strength that she showed.
I had to smile at some of Rachel's revenge acts on Stephen and his new partner, Alexa. They were a bit naughty and one in particular was really bad, but I did understand how she might be feeling about the pair of them. I thought she was actually quite lucky to be rid of Stephen to be honest! I didn't find this book to be laugh out loud funny but it did amuse me on occasion. I particularly liked the parts featuring Luke, a man that Rachel meets at a kids library sing-a-long group. I remember those kinds of groups well but I don't remember the hot bloke running them!
This is a fun read and Rachel's chaotic life makes for an amusing storyline at times. I really liked the little 'how to make' projects at the beginning of each chapter acknowledging that trying to do such projects with young children often ends in a mess. Mummy Needs a Break is an easy and quick read, with a very satisfying conclusion.
---

---

Susan Edmunds lives and works in New Zealand.
Author photo from Amazon