ShortBookandScribes #BookReview – Mrs March by Virginia Feito
Today I'm sharing my thoughts about Mrs March by Virginia Feito which was published yesterday by 4th Estate. My thanks to Lindsay Terrell for my proof copy of the book for review purposes.
---

---
Shirley Jackson meets Ottessa Moshfegh meets My Sister the Serial Killer in a brilliantly unsettling and darkly funny debut novel full of suspense and paranoia

George March's latest novel is a smash hit. None could be prouder than Mrs. March, his dutiful wife, who revels in his accolades and relishes the lifestyle and status his success brings.

A creature of routine and decorum, Mrs. March lives an exquisitely controlled existence on the Upper East Side. Every morning begins the same way, with a visit to her favourite patisserie to buy a loaf of
olive bread, but her latest trip proves to be her last when she suffers an indignity from which she may never recover: an assumption by the shopkeeper that the protagonist in George March's new book –
a pathetic sex worker, more a figure of derision than desire – is based on Mrs. March.

One casual remark robs Mrs. March not only of her beloved olive bread but of the belief that she knew everything about her husband – and herself – sending her on an increasingly paranoid journey, one
that starts within the pages of a book but may very well uncover both a killer and the long-buried secrets of Mrs. March's past.

A razor-sharp exploration of the fragility of identity and the smothering weight of expectations, Mrs. March heralds the arrival of a wicked and wonderful new voice.
---

---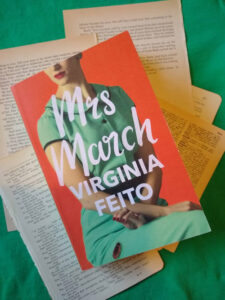 The eponymous Mrs March is proud of her husband, George, a celebrated writer, and of her status as his wife. His new book has just been published and on Mrs March's daily visit to buy her favourite olive bread she is pleased that the patisserie owner has read George's book….until she dares to suggest that the main character, a prostitute, is based on Mrs March herself.
Mrs March (as we know her throughout the course of the book) seems to be a woman teetering on the edge. She's deeply unstable with a façade that suggests respectability in all things. That one exchange in the patisserie leads her to descend down a very slippery slope into paranoia, seeing things that aren't there and mistaking things that are.
In many ways this is quite a disturbing read. Mrs March is not a likeable protagonist and to witness her spiral into something akin to mania is not a pleasant experience as I wondered how far it would go and how her story would come to an end. The author has done an excellent job at putting across her creation's distress at the sense that everybody must be talking about her, looking down their noses at her, someone who is upstanding in every way possible. I can't say I found it the easiest of reads but it's certainly a fascinating one, the weight of keeping up appearances and putting on a show bearing down heavily on Mrs March's shoulders.
Think Mrs Dalloway crossed with Alfred Hitchcock and I think you would get this dark and unsettling character driven story. It's a very good debut novel from Virginia Feito.
---
---
Virginia Feito was raised in Madrid and Paris, and studied English and drama at Queen Mary University of London. She worked as a copywriter until she quit to write her debut novel. She lives in Madrid.