ShortBookandScribes #BookReview – Mine by Clare Empson @orionbooks #BlogTour
I'm so pleased to be reviewing the fabulous Mine by Clare Empson today. My thanks to Orion for sending a copy of the book for review purposes and to Tracy Fenton of Compulsive Readers for the place on the tour.
---

---
'Who am I? Why am I here? Why did my mother give me away?'

On the surface, Luke and his girlfriend Hannah seem to have a perfect life. He's an A&R man, she's an arts correspondent and they are devoted to their new-born son Samuel.

But beneath the gloss Luke has always felt like an outsider. So when he finds his birth mother Alice, the instant connection with her is a little like falling in love.

When Hannah goes back to work, Luke asks Alice to look after their son. But Alice – fuelled with grief from when her baby was taken from her 27 years ago – starts to fall in love with Samuel. And Luke won't settle for his mother pushing him aside once again…
---
---
I was a huge fan of Clare Empson's first book, Him. It was one of my top reads of last year. I couldn't wait to read Mine but I did wonder, having read the synopsis, whether it would have the same impact for me personally that Him did. I didn't need to wonder, I should have just trusted in Empson's abilities. I absolutely loved Mine!
The book begins with Luke, 27, and his birth mother, Alice, meeting for the first time. Luke, like many adopted children, has always felt out of step with his adopted family. He gets on well with Alice and so does his wife, Hannah, so they decide to ask her to look after their baby, Samuel, when Hannah goes back to work. It seems like a good idea but despite their genetic closeness, Luke doesn't really know anything about Alice.
I think the synopsis made me think this was going to be a psychological thriller, and there are certainly lots of psychological aspects to it, but it's so much more. It gets right to the heart of emotions and difficult reunions. The story is told in alternating chapters. We hear from Luke in 2000 but we also see Alice in 1972 and we find out what led her to give him up for adoption. It's when it's all put together in context that the pieces really slot together.
What made Him special for me was the beautifully written love affair contained within the pages and that's the major reason I didn't know if Mine would affect me in the same way. However, I was thrilled to find that Empson has again written the affecting story of intense love, heartbreak and loss that I was hoping for. Reader, I cried. The books that stay with me make me cry. Mine will definitely stay with me.
Clare Empson is most definitely an author who I will read without knowing anything about the story. She's so intuitive, and is able to take a dark story and deliver it with feeling. I was utterly gripped by Mine from beginning to end.
---

---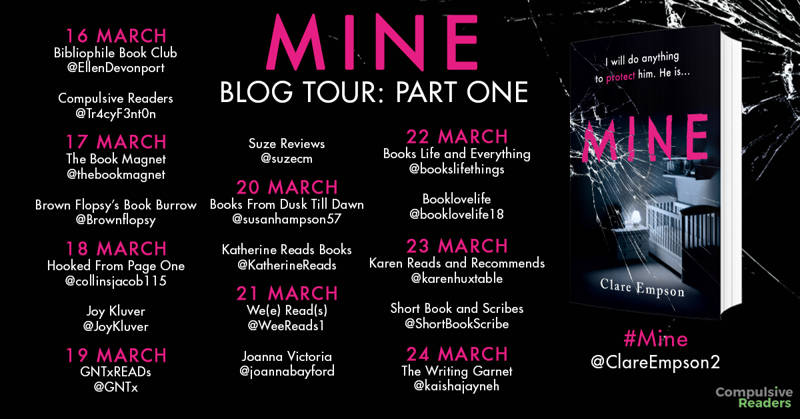 ---

---
Clare Empson is a journalist with a background in national newspapers and has worked as a small business editor, finance correspondent and fashion at the Mail on Sunday and the Daily Express. Clare freelances for The Sunday Telegraph, The Sunday Times, the Evening Standard and Tatler amongst others. She currently works as editor/founder of experiential lifestyle website www.countrycalling.co.uk. Him is her debut novel. Her second novel Mine is an exploration of the fraught relationship between a birth mother and her adopted son set against a backdrop of a passionate love affair in the 70s. Mine will be available August 2019.