ShortBookandScribes #BookReview – Meredith, Alone by Claire Alexander
Meredith, Alone by Claire Alexander was published by Michael Joseph on 9th June in hardcover, eBook and audiobook. My thanks to the publishers for the proof copy of the book.
---

---
Meredith Maggs hasn't left her house in 1,214 days. But she insists she isn't alone.

She has her cat, Fred. Her friend Sadie visits when she can. There's her online support group, StrengthInNumbers. She has her jigsaws, favourite recipes, her beloved Emily Dickinson, the internet, the Tesco delivery man and her treacherous memories for company.

But something's about to change.

First, new friends Tom and Celeste burst into her life. Then an estranged sister she hasn't spoken to in years.

Suddenly her carefully curated home is no longer a safe place to hide.

Whether Meredith likes it or not, the world is coming to her door . . .
---

---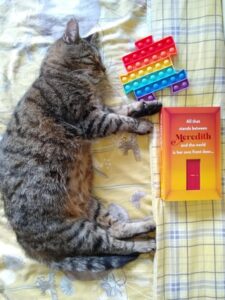 Meredith hasn't left her house for 1,214 days. She is alone although she has her cat and her best friend who visits her as often as she can. She's cut herself off from the outside world. The story is perfectly formed and it's only as we bear witness to Meredith's isolation that we are drip-fed the reasons why she's unable to venture beyond her front door. Two new friends, Tom and Celeste, come into Meredith's life and it seems like for the first time in a long time she might have a reason to take a step further, but it's not going to be easy.
I found this book absolutely heartbreaking in places and felt so sorry for what Meredith had to deal with. Being written in the first person, both in the current day and in her memories, made it a very powerful read. She's wonderful, brave and kind, and she's an unforgettable character for me. I loved her for her inner strength, her care for others, her baking and her jigsaw abilities.
This is a book I wanted to pick up and read at every opportunity. You might think a book about a woman not leaving her house would struggle to engage a reader but that is most definitely not the case. Although it's sad at times, it's still uplifting and inspirational. Claire Alexander gets the tone exactly right, always providing lightness to counteract the darkness, whilst staying sensitive to the difficult topics that are covered.
At every stage I was engrossed in the beautiful writing and rooting for Meredith in this relatable and tender character driven story. I can't believe this is a debut novel. This has the hallmarks of an author who has spent years honing their writing skills. Meredith, Alone easily makes it into my favourite books of the year. It's a very special novel indeed, with fabulous characters, a warm-hearted feeling and a story that blew me away.
---
---
Claire Alexander lives with her young family on the west coast of Scotland. A freelance journalist, she has written about parenting, sobriety, mental health and wellbeing for publications including The Washington Post, The Independent, The Huffington Post and Glamour. When she's not writing or parenting, she's on her paddle board, thinking about her next book.