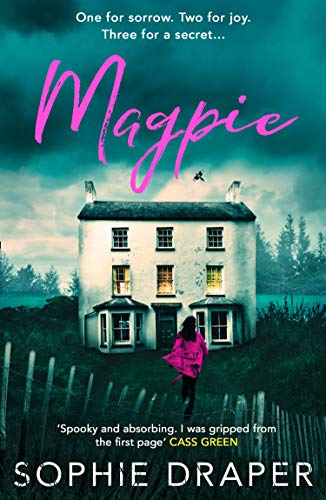 ShortBookandScribes #BookReview – Magpie by Sophie Draper @AvonBooksUK #BlogTour
I'm reviewing Magpie by Sophie Draper today as part of the blog tour. My thanks to Avon Books for the place on the tour and for sending me a copy of the book for review purposes.
---
She's married to him. But does she know him at all?

Claire lives with her family in a beautiful house overlooking the water. But she feels as if she's married to a stranger – one who is leading a double life. As soon as she can get their son Joe away from him, she's determined to leave Duncan.

But finding out the truth about Duncan's secret life leads to consequences Claire never planned for. Now Joe is missing, and she's struggling to piece together the events of the night that tore them all apart.

Alone in an isolated cottage, hiding from Duncan, Claire tries to unravel the lies they've told each other, and themselves. Something happened to her family … But can she face the truth?
---

Sophie Draper quite clearly has a very particular style, one which works well for her. Magpie has so many of the same features that her previous book, Cuckoo, had. First of all, the Derbyshire setting. I loved this as it's a landscape I'm quite familiar with and the author portrays it beautifully. Magpie is set around a reservoir, one where a village had to be submerged to create it just like the real life Derwent Village which was submerged to make way for Ladybower reservoir. The mention of the church spire appearing at times of low water is really eerie.
There's also the sense of foreboding, the suspenseful nature not particularly of the story (although that has some suspense) but more the main character's own narrative which is potentially unreliable. Claire is a wife and mother and seems to have lost sight of anything else she might ever have been. She's married to Duncan, once her soulmate but now she's planning her escape from him. Joe, their son, is now 18 but troubled and she wants to make sure Joe will come with her. She most definitely doesn't want to leave him with Duncan.
The story is told in before and after (after what, we do not know) and I must admit that even for me, who loves books that chop and change times like this, it did get rather confusing and maybe a bit overcomplicated. I'm not sure it was all strictly needed and I don't think it would have lost anything if it had been simplified a bit.
There were a couple of twists towards the end, not least the revelation of what the after scenes were following on from. It wasn't a complete surprise as I had my suspicions but I hadn't really allowed them to come to the surface so it was still rather unexpected. I thought it was a well executed development.
Overall this is a book that has a lot going for it. The Derbyshire backdrop was fabulous and the unfolding of the story was effective. This is psychological fiction that gets to the heart of a family in crisis, what led them there and what happens next. Don't go into it expecting heart-pounding drama. Go into it expecting a steady and dark tale and you won't be disappointed.
---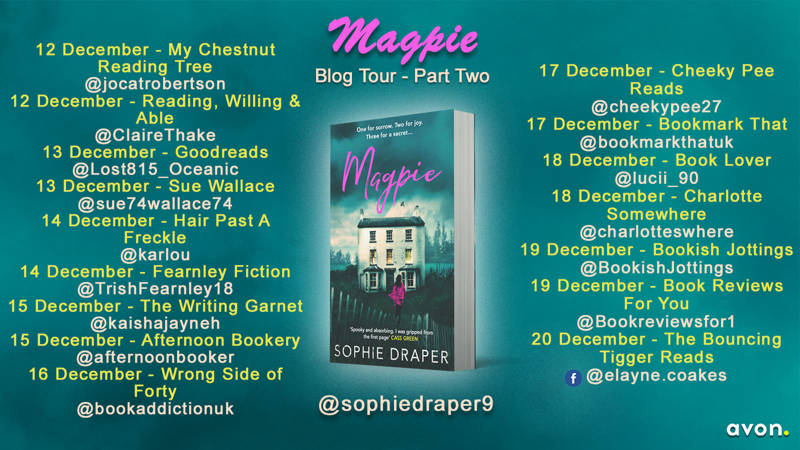 ---

Sophie 's debut novel, CUCKOO, was published by Avon (HarperCollins) on 29th Nov 2018. It won the Bath Novel Award 2017 (as "The Pear Drum") and the prestigious Friday Night Live competition at the York Festival of Writing 2017.
Her second book, MAGPIE, is due out on 28th November 2019.
Sophie lives with her family in Derbyshire, in a house filled with music, several cats, too many books and three growing boys. When not writing, Sophie works as a traditional oral storyteller. She was nominated for the British Awards for Storytelling Excellence 2013 (Outstanding Female Storyteller) and performs across the UK, telling stories for all ages at festivals, schools, historic houses, museums and community groups.