ShortBookandScribes #BookReview – Love in the Time of Britpop by Tim Woods @tim_woods77
My thanks to Tim Woods for sending me a copy of his fabulous and funny book for review purposes. You can read my review below.
---
England, 1990s. Cool Britannia takes over the world and Britpop leads the charge.

The easiest thing for Chris would be to submerge himself in the music, but with girls like Lou around, it's not that simple. And she's not the only one distracting him from his beloved bands …

When he most needs help, will compulsive climber Rob, or Mike, a PhD student who's OCD on coffee, show him the way? Maybe Cecilia, or the unforgettable Chemical Joe with his in-depth knowledge of gangster films, can come up with the answers?

Caught between bad advice, an overwhelming desire for sex and an opportunity to see Blur, the one big Britpop band he's missed, Chris has life-changing decisions to make.

As the 90s come to a close, is this finally the time to go it alone?

Love In The Time Of Britpop is an unromantic comedy about great loves, incredible music and awkward sex, all set to the finest soundtrack the UK has ever produced.

You can listen to the first chapter here.
---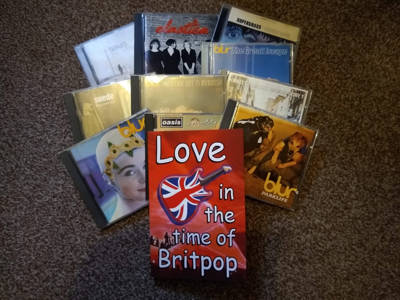 I must admit to being a tiny bit unsure about this book. Would I really enjoy a book set twenty years ago about a university student? Was I really the target audience? I also have to admit to being totally swayed by the fact it's set in my home city of Sheffield.
I'm happy to report that not only was I pleasantly surprised by the fact that I loved this book, I would also say it's Definitely, Maybe on my shortlist of my favourite books of the year.
Tim Woods studied in Sheffield, just like our hero (or should that be anti-hero), Chris Henderson, but his book is not autobiographical, it just happens to be set around the time he was a student. He also says that he was fed up of books being set in London – amen to that!
Chris is a fantastic character. He's from Devon, a country lad in the big city. He lacks ambition, he's indecisive, he's desperate for a girlfriend and oh yes, perhaps most important of all, he's music mad. In the era of Britpop this means Blur, Oasis, Menswear, Suede et al. I was pleased that he favoured Blur over Oasis as I did too, back in the 90s when the rivalry was at its height. Chris's main hopes before he finishes his geography degree are to cop off with Louise Banks and to see Blur live before they split up. Despite his rather feckless behaviour, he's a genuinely nice lad and I was hoping that he would emerge triumphant from the mosh pit that is his life in Sheffield.
Not many books make me laugh but this one had me laughing out loud all the way through. It's exactly my kind of humour, very dry and sardonic. Chris finds himself in the usual student situations: clubs, pubs, raves, gigs, maybe the odd lecture or two. His friends are brilliant, especially Rob, who seems so much more mature than Chris and whom Chris really looks up to. I also enjoyed following Chris's hapless attempts at romance, bless him. Don't make the mistake of thinking this is just an infantile book about students though. It's really not that at all, it's just as thoughtful as it is hilarious.
I spent a couple of days reading Love in the Time of Britpop and what an enjoyable time I had. I suppose you could call it a coming of age story. It's the perfect book to read if you remember the 90s at the End of the Century, enjoy the musical references and if you just simply love a very good, very funny, slice of life story. This one was right up my (Sheffield) street and a Connection was most definitely made!
---

Tim Woods is one of the many writers living in Berlin. Love In The Time Of Britpop is his first novel. He supports Liverpool, Swindon Town, Lewes and Hannover 96, and drinks a lot of coffee.