ShortBookandScribes #BookReview – Little White Lies by Philippa East @HQStories #BlogTour
I'm pleased to be taking part in the blog tour today for Little White Lies by Philippa East and to be sharing my thoughts on this great debut. My thanks to HQ Stories for the place on the tour and the proof copy of the book for review purposes.
---
She only looked away for a second…

Anne White only looked away for a second, but that's all it took to lose sight of her young daughter.

But seven years later, Abigail is found.

And as Anne struggles to connect with her teenage daughter, she begins to question how much Abigail remembers about the day she disappeared…

Addictive, edge-of-your-seat dark women's fiction perfect for fans of Heidi Perks, Sophie Hannah and Lisa Jewell
---

A book entitled Little White Lies was always going to appeal to me. I love the idea of secrets and lies in a story, especially within a family.
It's an intriguing premise. Imagine your eight year old daughter going missing and suddenly being found and returned home seven years later. This book is about what happens after the return of Abigail and the effect on her family. It doesn't actually go into huge detail about what happened whilst Abigail was missing, it's more focused around certain things that happened at the time and how the repercussions of those events have rippled down the years.
I must admit I was anticipating more emotion given the nature of the story and the telling of it seemed quite matter of fact. However, I did think it was a fascinating scenario and I found myself wondering what it must be like to have an almost stranger return into the hub of your family. It's certainly a thought-provoking read in many ways and I think the author has chosen a thoroughly interesting subject to write about.
The story is told from the points of view of Anne, Abigail's mother, and Jess, her cousin and the person who was always closest to her before her disappearance. Jess is the same age as Abigail and so it gives both an adult's and a contemporary's perspective of what's happening. Although I occasionally found myself a little confused as to who was 'talking' I was soon able to work it out and I enjoyed the differing viewpoints.
Little White Lies is a good read, a family drama and one that kept me turning the pages. Towards the end my heart was beating a bit faster as everything came to a head. It's a really solid debut and I'm looking forward to seeing what the author does next.
---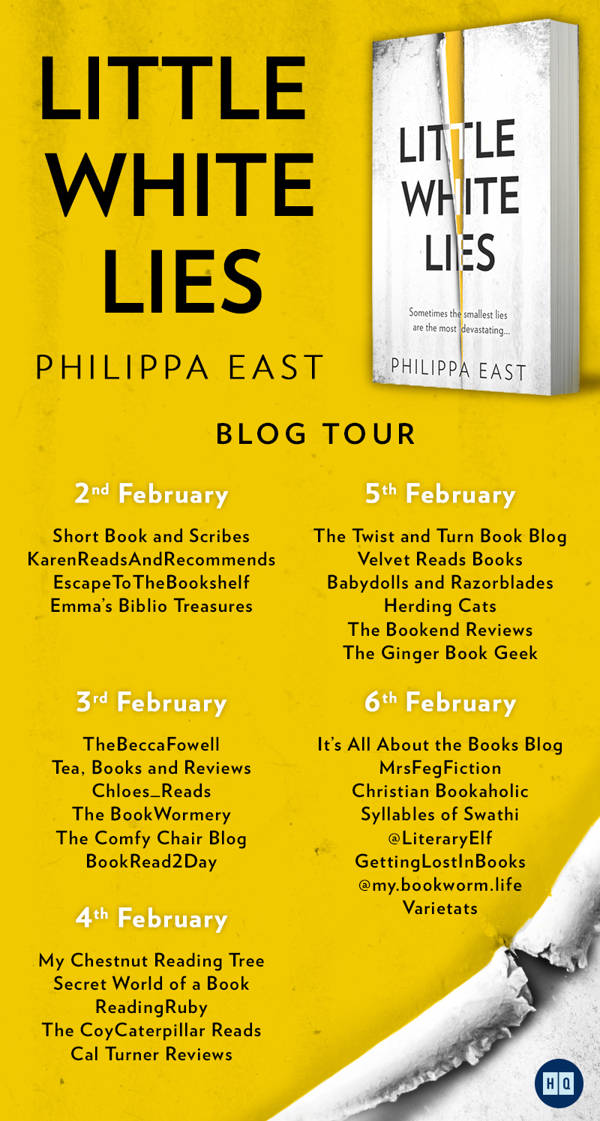 ---

Philippa East grew up in Scotland before moving to Oxford and then London to train as a Clinical Psychologist.
A few years ago, Philippa left the NHS to set up her own part-time practice and dedicate more hours to writing. The result was her debut novel LITTLE WHITE LIES which will be published with HQ/HarperCollins in February 2020.
Philippa now lives in the beautiful Lincolnshire countryside with her husband and cat. She loves reading (of course!) and long country walks, and she also performs in a local folk duo called The Miracle Cure. Alongside her writing, Philippa continues to work as a psychologist and therapist.