ShortBookandScribes #BookReview – Liar by Lesley Pearse #LoveLesley
Well hello book 28 from one of my all-time favourite writers. Liar by Lesley Pearse will be published by Michael Joseph in ebook and hardcover on 25th June. My thanks to Ed PR for sending me a proof copy for review purposes and also a lovely finished hardback copy.
---

---
In a Shepherd's Bush bedsit, Amelia White dreams of being a reporter. The closest she's come is selling advertising in the local paper.

Until the fateful day she stumbles on a truly shocking scoop.

Round the corner from her home, she discovers the body of a murder victim, dumped among the rubbish. When the police and reporters descend, Amelia is horrified at the assumptions made and lies soon to be spread about this poor young woman.

Determined to protect the victim from these smears and help her grieving family, she convinces her paper's editor to allow her to take up her pen and tell the true story.

But when another body is found and the police investigation stalls, Amelia – uncovering new witnesses and suspects in her search for clues – discovers that she may be the only one with any chance of learning the truth and stopping more killings.

If only she can work out who the liar is . . .
---

---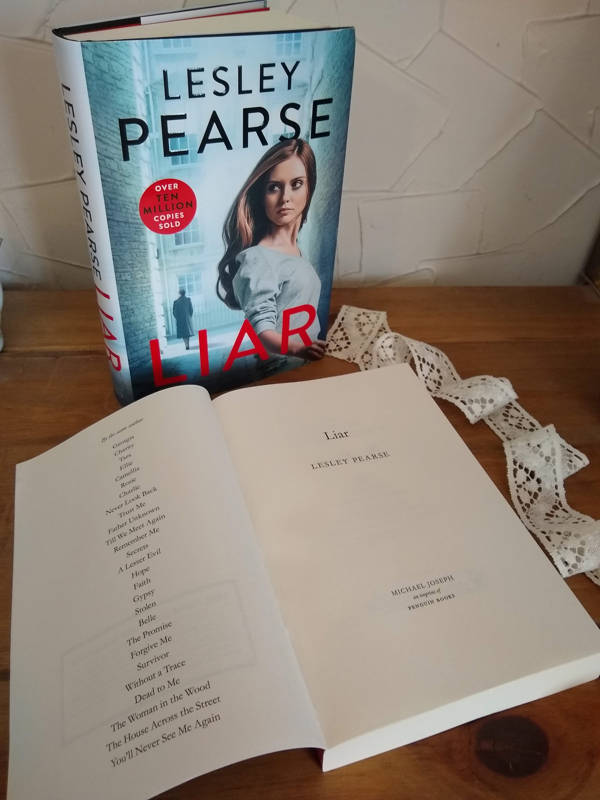 Full disclosure: I am a huge Lesley Pearse fan so it's pretty much a given I will love her books (and this is book 28!). I found Liar to be a real page-turning read.
Our protagonist is Amelia White who lives on her own in her bedsit in London. It's 1970, flower power is done with, and Amelia is concentrating on her job at a newspaper. She wants to be a reporter but at the moment she's only tasked with selling advertising space. However, her working life is about to take an unexpected turn when she discovers the body of a dead woman and because it was her discovery she is allowed to write about it for the paper.
This is only the start for Amelia, though, as she finds herself in all sorts of difficult situations. If at times she seemed a little too good to be true, and if she did seem to get into rather too many of those difficult situations, it didn't alter my enjoyment because this is such an engrossing story that I found myself completely immersed in.
Pearse is a consummate storyteller, weaving together the sensational and the ordinary to create a really great domestic noir/murder mystery. Amelia is such a likeable heroine and I so wanted her to escape her past and make a new life for herself. She turns amateur detective, delving into her own investigations into who killed the woman. This steps up a gear when the killer strikes again. The ending was not a total surprise as I'd started to get an inkling as to who it might be but not until much later on in the story and after the author had already led me down a different path. It was a really cleverly executed denouement.
Once again Lesley Pearse has written a fabulous tale which had me hooked from page one. Liar is a delight to read, full of her customary compassion and warmth.
---
---
Lesley Pearse was told as a child that she had too much imagination for her own good. When she grew up she worked her way through a number of jobs, including nanny, bunny girl, dressmaker and full-time mother, before, at the age of forty-nine, settling upon a career that would allow her gifts to blossom: she became a published writer. Lesley lives in Devon and has three daughters and three grandchildren.