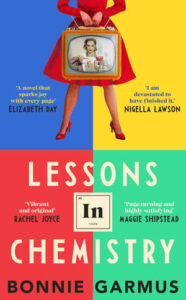 ShortBookandScribes #BookReview – Lessons in Chemistry by Bonnie Garmus
My review today is of Lessons in Chemistry, the truly wonderful debut novel by Bonnie Garmus. My thanks to Alison Barrow from Doubleday for the proof copy of the book. It will be published in hardcover, eBook and audiobook tomorrow.
---

---
Your ability to change everything – including yourself – starts here

Chemist Elizabeth Zott is not your average woman. In fact, Elizabeth Zott would be the first to point out that there is no such thing.

But it's the early 1960s and her all-male team at Hastings Research Institute take a very unscientific view of equality. Except for one: Calvin Evans, the lonely, brilliant, Nobel-prize nominated grudge-holder who falls in love with – of all things – her mind. True chemistry results.

Like science, life is unpredictable. Which is why a few years later, Elizabeth Zott finds herself not only a single mother, but the reluctant star of America's most beloved cooking show, Supper at Six. Elizabeth's unusual approach to cooking ('combine one tablespoon acetic acid with a pinch of sodium chloride') proves revolutionary. But as her following grows, not everyone is happy. Because as it turns out, Elizabeth Zott isn't just teaching women to cook. She's daring them to change the status quo.
---

---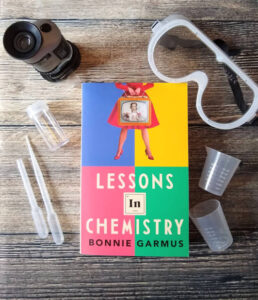 What a book! What a woman! Elizabeth Zott is an unforgettable protagonist, a magnificently forthright one, sure of her opinions and her feelings, and way ahead of her time.
Elizabeth is a chemist in 1960s America at a time when woman were (in a man's opinion, of course) only good for staying at home, making sure the dinner was on the table and bringing up the children. Nothing wrong with those things if that's what a woman wants, but there was a strong sense of keeping women in their little boxes. Elizabeth fights against that. Incredibly intelligent and uncompromising, she is a very special creation indeed. I felt like she was real, written in such glorious technicolour detail that, for me, she just leapt off the page. I could picture exactly what her cooking show would be like and I think this is a book that will be superb on the screen (it's soon to be made into a TV serial).
I know other reviewers will talk about the other main characters but I came to them blind and I think that's the best way. All I will say is that each character is perfectly drawn, whether they are the ones closest to Elizabeth or the ones making her life a misery.
Lessons in Chemistry is an absolute masterpiece. Not only outstanding in its clarity on feminist issues but it's an exceptional debut novel about a revolutionary trail-blazer, a scientist, a lover, a mother, a friend. I was engrossed in it, alternately punching the air and feeling despair, but knowing that throughout it all Elizabeth would stick to her guns and take no prisoners in her pursuit of what she thinks is right. I think we should all be a bit more Elizabeth.
This is a book that will stay with me. It's written with intelligence and meaning, plotted brilliantly and with an incredible main character. Bonnie Garmus might just be a genius.
---
---
Bonnie Garmus is a copywriter and creative director who has worked for a wide range of clients, in the US and abroad, focusing primarily on technology, medicine, and education. She's an open water swimmer, a rower, and mother to two pretty amazing daughters. Most recently from Seattle, she currently lives in London with her husband and her dog, 99.