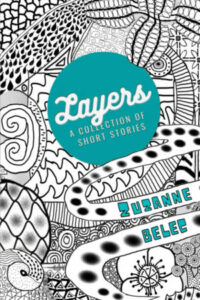 ShortBookandScribes #BookReview – Layers by Zuzanne Belec #shortstories
Today I'm sharing my thoughts on Layers by Zuzanne Belec, a collection of short stories. My thanks to the author for sending me a copy of the book for review purposes.
---

---
Eight short stories on the power of the human spirit.Layers is a debut collection of imaginative short stories celebrating life and the human spirit despite the ever-present spectre of melancholy in our lives today. With their distinctive blend of wit and humour, they light up any underlying darkness. From the Americas to India, from Africa to Europe, and through a range of genres, voices and styles, layers are unraveled, revealing the textures and contrasts of old and new in the environments and cultures of today's fast-paced world. With vivid descriptions, we are drawn into enchanting worlds with characters that leap off the page, leaving the reader lingering long after the pages have been read.

In The Christmas Charge: Instead of enjoying their Christmas preparing eggnog cream pie and sipping sherry by the fireside, three batty grannies go on an African safari. At this stage of wisdom in their lives, nothing can go wrong. Right?
In Paths Taken: When her grandmother 'kills' a man on a busy town square, Hecate is forced to face her worst fears and use her own unsettling powers to help her. But where will these new paths take her?
In White Noise: All Earl needs to do is hand his work over to his successor. But is it that easy to let go? And where does one hide from one's inner noise when things go wrong?
In The Old Man and the Donkey: Deep in northern Portugal, an old man and his donkey go about their lonely routine. When an unexpected visitor shows up, everyone is given a new chance of happiness. But have they all been stubbornly avoiding it for too long?
In The Arctic Haze: Since he was little, bad luck has stuck to George's soles like clingy dog mess. Some of us are luckier. Or are we really?
In Penny's Purple Robot: A loving father exceeds himself to make his daughter happy after her mother passes away. But can he force himself to face a brutal truth?
In Mothers: Deep in Africa, a desperate mother accepts her own fate, but refuses to face an even harsher reality. Mothers will do anything for their young. And things may not be as they seem.
In Yeehaw: Running from their regular lives, Sam and Patsy end up in an artificial town – Yeehaw Theme Park. Will they find their true selves in this synthetic world?

If you like a minimalist and dark, yet humorous look at the contrasts we face in the world today, you will enjoy this collection of mixed-genre stories.
---

---
Layers is a very apt title for this short story collection by Zuzanne Belec. In a small volume she manages to produce multi-layered tales which I found quite unique and intriguing. The eight stories focus on the power of the human spirit and this shone through quite strongly for me.
I'll be completely honest and say that I am not a fan of short stories on the whole. I'd much prefer to get stuck into a full length novel. However, Belec has produced a varied and interesting collection with stories that I felt had depth and which I found thought-provoking.
One of the stories, Mothers, will stay with me because of the subject matter. A cleverly written, mind-bending beginning led to a moving story with parallels with mothers everywhere. Another, In the Arctic Haze, has a fascinating setting and a rather concerning encounter. The opening story, In the Christmas Charge, made me smile. What's interesting is that each story took me somewhere different, both in terms of location and content.
Layers will take you away and drop you in another culture, then pick you up and take you somewhere else. It's an unusual read, very original and readable, with wisdom and intensity beneath the surface.
---
---
Zuzanne is a writer, poet and translator who now lives in the heart of Europe, after being lucky enough to spend her first thirty years absorbing the contrasting textures of Africa.
After she quit the rat race, she spent fifteen years as a translator before discovering the world of writing. This discovery, and the encouragement from her daughters, partner and friends, led to her decision to delve even deeper into writing. She then grew a long grey beard and became a hermit, studying the craft and immersing herself into this world that is magic
About the time when her beard reached ankle-length, she knew she was on the right path when three of her stories were published in Canadian literary magazines.
This debut collection, Layers, is the result of this passion. And it is only the beginning …
Claim your free story and join her club on: https://landing.mailerlite.com/webforms/landing/o5o4a1