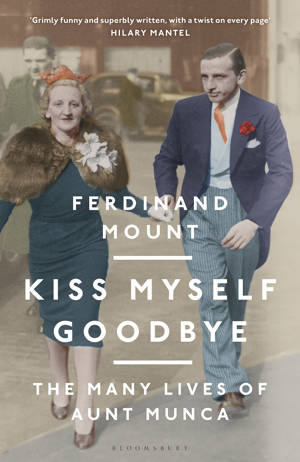 ShortBookandScribes #BookReview – Kiss Myself Goodbye by Ferdinand Mount
I'm sharing my thoughts about Kiss Myself Goodbye by Ferdinand Mount today. It's a fascinating read about a complicated woman. My thanks to Julia from Bloomsbury for the proof copy of the book for review purposes. It will be published in hardcover and ebook on 29th October.
---

---
Aunt Munca never told the truth about anything. Calling herself after the mouse in a Beatrix Potter story, she was already a figure of mystery during the childhood of her nephew Ferdinand Mount. Half a century later, a series of startling revelations sets him off on a tortuous quest to find out who this extraordinary millionairess really was. What he discovers is shocking and irretrievably sad, involving multiple deceptions, false identities and abandonments. The story leads us from the back streets of Sheffield at the end of the Victorian age to the highest echelons of English society between the wars.

Kiss Myself Goodbye is both an enchanting personal memoir like the author's bestselling Cold Cream, and a voyage into a vanished moral world. An unconventional tale of British social history told backwards, its cryptic and unforgettable protagonist Munca joins the ranks of memorable aunts in literature, from Dickens' Betsy Trotwood to Graham Greene's Aunt Augusta.
---

---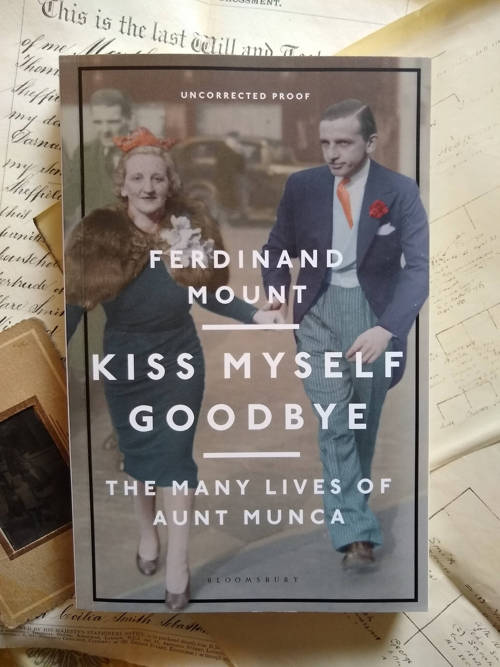 A few things drew me to this book. First of all it was the intrigue behind the author's Aunt Munca, not just the fact that she used the name of a Beatrix Potter mouse but also the fact she was quite a mysterious figure for him. He grew up spending quite a lot of time around her but never really felt that he knew her fully.
The second thing was the mention of Sheffield and there is a fabulous lengthy chapter in the book about my home city in the late 19th and early 20th century. I'm sure any reader would agree that there is something extra special about reading about a place you know well.
And then there's that gorgeous cover with the image of a glamorous looking man and woman lightly holding hands. I was desperate to know their story.
Kiss Myself Goodbye is Ferdinand Mount's account of his aunt's life. A shadowy character, edging around questions she doesn't want to provide true answers to, he manages to discover endless amazing things about her life both up until the point she is a part of his life and beyond. And it truly is fascinating. The whole thing had my jaw dropping on many occasions, and sometimes nodding along sagely as previously unknown or seemingly unconnected pieces of information all slotted into place.
I particularly enjoyed Mount's journey of discovery through genealogy research, the way he found out so much from birth, marriage and death certificates. He has a difficult job as Munca didn't seem to tell the truth about herself so every single detail is hard won.
Kiss Myself Goodbye is the name of a song the author remembers from a trip to a nightclub with his Aunt Munca but it's also remarkably fitting as Munca spent her lifetime kissing her real self goodbye and reinventing herself. They often say the truth is stranger than fiction and that's definitely true of Munca's life.
I found this to be an engrossing story of a woman with more layers than an onion and a social history read packed with informational gems. Whilst there was the odd section that didn't completely absorb me, the vast majority of it was utterly captivating. It's a fabulous book.
---
---
Ferdinand Mount was born in 1939, the son of a steeplechase jockey, and brought up on Salisbury Plain. After being educated at Eton and Oxford, he made various false starts as a children's nanny, a gossip columnist, bagman to Selwyn Lloyd, and leader-writer on the doomed Daily Sketch. He later surfaced, slightly to his surprise and everyone else's, as head of Margaret Thatcher's Policy Unit and later editor of the Times Literary Supplement. He is married with three children and two grandchildren and has lived in Islington for half his life. Apart from political columns and essays, he has written a six-volume series of novels, A Chronicle of Modern Twilight, which began with The Man Who Rode Ampersand, based on his father's racing life, and included Of Love And Asthma (he is a temporarily retired asthmatic), which won the Hawthornden Prize for 1992. He also writes what he calls Tales of History and Imagination, including Umbrella, which the historian Niall Ferguson called 'quite simply the best historical novel in years'.