ShortBookandScribes #BookReview – Jay-Jay and His Island Adventure by Sue Wickstead @JayJayBus @rararesources #BlogTour #Giveaway
I'm so pleased to be reviewing another Jay-Jay bus today. This time it's Jay-Jay and His Island Adventure. My thanks to Sue Wickstead for sending me a copy of the book for review purposes and to Rachel Gilbey from Rachel's Random Resources for the place on the tour.
---
Jay-Jay the Supersonic Bus is not an ordinary bus taking you on a journey. He is a Playbus. Find out what happens when he is invited to an island where the children have never seen a double-decker bus – and certainly not one full of toys!

Behind the story:

'Jay-Jay and his Island Adventure', was originally written for a Scottish book bus.

'Play,Talk, Read' was the project which visited remote areas if Scotland to encourage reading in the very young. It was a great success and the bus even visited the Shetland Islands travelling on a very small ferry.

The children had never seen a double-decker on their island before and certainly not one to play on.

However, the Scottish project was too busy with referendums and with the book ready and edited I changed the name of the bus from Benji, sending Jay-Jay instead.

The island on the cover of the book was based on a piece of mainland Spain which I have visited many times.

Cap D'Or is the promentory near to a little village of Moraira.

The villagers in Moraira invited me to read this book in their library and local schools.

The people in this little village were surprised to find that Jay-Jay was a real bus.

(Jay-Jay may not have got to Spain in reality but in my imagination he did and now all of the books are in the local library in both Teulada and Moraira.)

Memorable moraira – http://bit.ly/2BHCELf
Purchase Links –
---

My 5 year old son and I loved Jay-Jay the Supersonic Bus so we were really looking forward to this second instalment, Jay-Jay and His Island Adventure.
In the first book, Jay-Jay had been rescued from the scrapyard and made into a playbus for children. He was given a new lease of life which made him very happy. In this book, he's enjoying his life as a playbus when he is given an adventure: to go on a ferry to an island to entertain the children there. After a slightly choppy crossing, he reaches the island and parks up in view of the sea. The children come along and have pirate adventures and lots of fun.
We love these books in our house and Jay-Jay and His Island Adventure is a great addition to the series with some excellent illustrations to bring the story to life. It's lovely to see what is in effect recycling, with Jay-Jay finding a use when he thought he wouldn't have one again. And it's great to see the children having fun on him. I think there's something rather magical about the stories and they have a fabulous, family fun feel to them. I think there should be more playbuses around!
I'm looking forward now to finding out what Jay-Jay gets up to next. Oh yes, and my son is too!!
---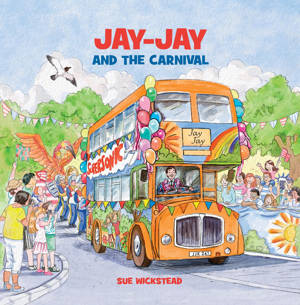 *Terms and Conditions –UK entries welcome. Please enter using the Rafflecopter box below. The winner will be selected at random via Rafflecopter from all valid entries and will be notified by Twitter and/or email. If no response is received within 7 days then Rachel's Random Resources reserves the right to select an alternative winner. Open to all entrants aged 18 or over. Any personal data given as part of the competition entry is used for this purpose only and will not be shared with third parties, with the exception of the winners' information. This will passed to the giveaway organiser and used only for fulfilment of the prize, after which time Rachel's Random Resources will delete the data. I am not responsible for despatch or delivery of the prize.
---

---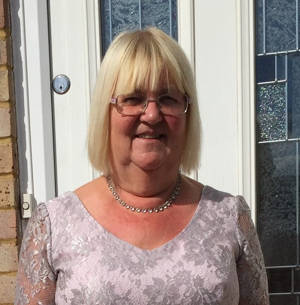 I am a teacher and an author and have currently written six children's picture books with a bus theme.
For over 20 years, alongside my teaching career, I worked with a Children's Charity, The Bewbush Playbus Association, which led me to write a photographic history book about it.
I soon found that many children had never been on a bus before, let alone a 'Playbus' and they wanted to know more. I decided to write a fictional tale about the bus, his number plate JJK261 gave him his name.
'Jay-Jay the Supersonic Bus,' came out in print in 2014. It is the story behind the original bus and is his journey from a scrap-yard to being changed into a playbus for children to play in. From Fact to fiction the bus journey continued.
This story has now been followed by five more picture books.
I also undertake events and author bookings and love to share the story. There are also a few more stories in the writing process, with links to real events and buses.
The story has been read in many schools in the south-East of England, where I teach as a cover teacher, it is always well received and certainly different.