ShortBookandScribes #BookReview – Isaac and the Egg by Bobby Palmer
Isaac and the Egg was published on 18th August by Headline Review in hardcover, eBook and audiobook. My thanks to Alara Delfosse for sending a proof copy for review purposes.
---

---
Isaac stands alone on a bridge and screams.

Something screams back.

And that, like everything which follows, is unforgettable.

This is a book about a lot of things – grief, hope, friendship, love. It's also about what you'd do if you stumbled into the woods at dawn, found something extraordinary there, and decided to take it home.

It's a tale that might seem familiar. But how it speaks to you will depend on how you've lived until now.

Sometimes, to get out of the woods, you have to go into them. Isaac and the Egg is one of the most hopeful, honest and wildly imaginative novels you will ever read.
---

---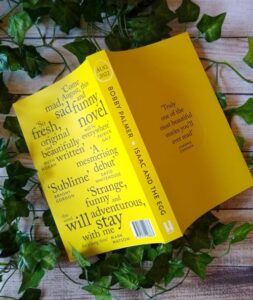 Isaac and the Egg is not really like any other book I've read. It's so unusual, to the point that I perhaps was a bit wary of picking it up, but I'd heard so many wonderful things about it and I'm so glad I've read it.
The book begins with Isaac standing on a bridge screaming. We don't know why yet. All we know is that he is distraught. When something screams back at him he discovers the Egg and takes him home. The story that follows is so unique and wonderful, and at times enchanting.
Isaac himself draws an inevitable comparison with ET and it certainly has the charm of that film, but with much more emotional adult themes. I think it would transfer to the screen just as well though. Egg is absolutely brilliant and I found myself smiling or laughing out loud at him. Isaac's interactions with him were just perfectly written and joyful to read. This is a story of grief and healing with the help of a friend, an eggy one, who somehow puts Isaac back together again.
It's hard to believe it's a debut novel. It's so clever, so brilliantly plotted and seamlessly woven together, and utterly full of hope after despair. I enjoyed it very much.
---
---
Bobby Palmer is a freelance journalist who writes for publications including 
Time Out
, 
GQ
, 
Men's Health
 and 
Cosmopolitan
. 
Isaac and the Egg
 is his debut novel.