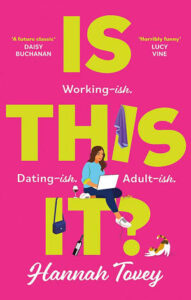 ShortBookandScribes #BookReview – Is This It? by Hannah Tovey
My review today is of the sublime Is This It? by Hannah Tovey. My thanks to Hannah and to Beth Wright at Piatkus for the review copy of the book.
---

---
-Employed (you have frequent nightmares about your job)
–Single and fabulous (swiping Tinder in your pyjamas while your best friend shops for engagement rings)
–Thriving (surviving)

Ivy and Mia have been best friends since the fun, messy, hungover years of their twenties.

Ten years later, Mia has it all – the man, the house, the career. Ivy is skint, single, and scared that she isn't a 'hot mess' any more – she's a walking disaster.

But one night, Ivy switches her phone off, peels last night's drunken pizza off the sofa, and makes a list. A list that changes everything . . .

The new Ivy has a proper job. She goes on fancy dates in wine bars. She's starting to think: maybe 'faking it till you make it' is easy?

But then she meets Scott.

Curly-haired, sarcastic Scott.

Sh*t.
---

---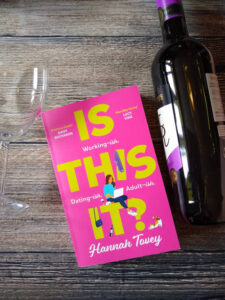 If Fleabag and Sex and the City had a love child then Is this It? would be the result. I was a huge fan of The Education of Ivy Edwards but I think this follow up is even better. Ivy is still reeling after the events of the past year but she's determined to get her act together this time. Starting with a pros and cons list, she decides it's time to get a proper job and a grown up life.
Ivy is a bit calamitous and self-destructive, but she's an absolute gem too. Hannah Tovey has created the perfect protagonist, one who is likeable but flawed and completely relatable. Then there's her family and friends……just brilliant! Her overbearing and wacky mother, her sister with a new baby, her flamboyant friends, Mia and Dan, and now there's Scott, a man she can't get out of her head. Each one makes Ivy who she is and she couldn't possibly live without them. So what happens when something comes along that threatens her new, more together, self?
I found this book absolutely hilarious, giggling away to myself. The author has the kind of humour that is right on my wavelength. There aren't many books that really make me laugh out loud so I love that Is This Is? did that for me. But it also has its serious moments. There's always the sense that at any moment Ivy might just mess everything up and I desperately didn't want her to do that. The end, when it came, was perfect and I adored it.
Actually, I just adored this book, full stop. I really hope there will be more books featuring Ivy and her crazy cohort in the future but if not I know I won't forget how much I enjoyed reading about her. I thought Is This It? was a perfect summer read, light and humorous, yet moving and thoughtful. Perfection!
---
---
Hannah Tovey is from South Wales and grew up in Hong Kong. She graduated from the Faber Academy in 2018, where she finished her debut novel, THE EDUCATION OF IVY EDWARDS. Hannah lives in East London where she misses Llanelli beach, her mother and cockles. Her second novel, IS THIS IT?, comes out July 2021.