ShortBookandScribes #BookReview – In Black and White by Alexandra Wilson #RandomThingsTours
It's my stop today on the blog tour for In Black and White by Alexandra Wilson. My thanks to Octopus Books for the copy of the book and to Anne Cater of Random Things Tours for the place on the tour.
---

---
Alexandra Wilson was a teenager when her dear family friend Ayo was stabbed on his way home from football. Ayo's death changed Alexandra. She felt compelled to enter the legal profession in search of answers.

As a junior criminal and family law barrister, Alexandra finds herself navigating a world and a set of rules designed by a privileged few. A world in which fellow barristers sigh with relief when a racist judge retires: 'I've got a black kid today and he would have had no hope'.

In her debut book, In Black and White, Alexandra re-creates the tense courtroom scenes, the heart-breaking meetings with teenage clients, and the moments of frustration and triumph that make up a young barrister's life.

Alexandra shows us how it feels to defend someone who hates the colour of your skin, or someone you suspect is guilty. We see what it is like for children coerced into county line drug deals and the damage that can be caused when we criminalise teenagers.

Alexandra's account of what she has witnessed as a young mixed-race barrister is in equal parts shocking, compelling, confounding and powerful.
---

---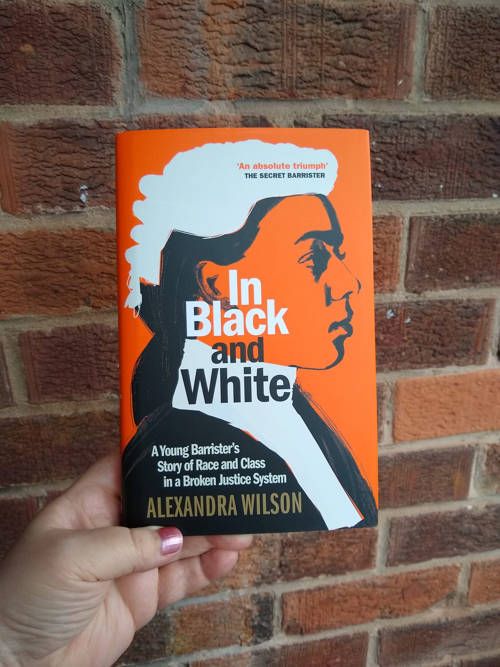 I must confess I don't read a lot of non-fiction but occasionally a book comes along that captures my imagination. In Black and White certainly did that.
Alexandra Wilson is a young, mixed-race barrister from Essex. In a profession that is predominantly made up of middle-aged white males this is unusual and I knew I wanted to read this book about a woman pushing the boundaries of what people believe a barrister should look and sound like.
It's a fascinating read. The death of her friend, Ayo, who was stabbed for no other reason than that he was a black teenage boy in the wrong place, inspired her to look to the law for a career to try and make a difference from the other side of things. From there we follow Wilson through her pupillage into qualification as a junior barrister, with plenty of ups and downs along the way, including some rather inappropriate exchanges with people who ought to have known better.
If you're thinking this might be a dry look at the criminal justice system though, then think again. This book is a mixture of eye-opening facts about the law and the author relating details about cases she has worked on. I was most interested in the latter, not only the particulars of the cases and the people appearing in court, but also the way that Wilson approached them and the calm attitude she displayed. I had to smile at some of the defendants who clearly knew who to work the system, and how Wilson dealt with them in the most diplomatic ways possible.
It's clear that Alexandra Wilson has a fabulous career ahead of her if this book is anything to go by. Her achievements already, at such a young age, prove that. In Black and White is an excellent and thought-provoking read.
---

---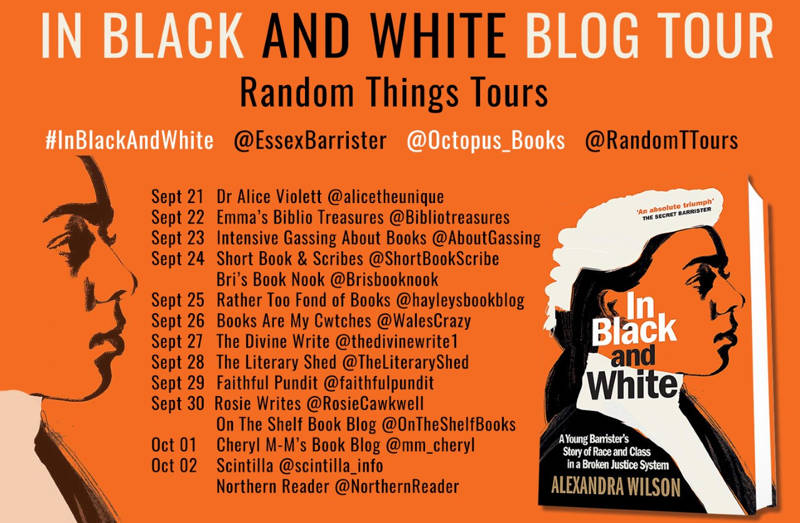 ---
---
Alexandra Wilson is a junior barrister. Aged twenty-five, she is the eldest of four children. Her mother is White British, her father is Black British and her paternal grandparents were born in Jamaica and came to England as part of the Windrush generation.
Alexandra grew up on the border of East London and Essex. She studied at the University of Oxford and was awarded two prestigious scholarships, enabling her to research the impact of police shootings in the US on young people's attitudes to the police. She went on to study for a Graduate Diploma in Law (GDL) and her Master of Laws at BPP University in London.
Alexandra was awarded the first Queen's scholarship by the Honourable Society of the Middle Temple, a scholarship awarded to students showing exceptional promise in a career at the Bar.
You can follow Alexandra's work on Twitter: @EssexBarrister