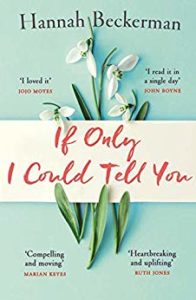 ShortBookandScribes #BookReview – If Only I Could Tell You by Hannah Beckerman @hannahbeckerman @orionbooks @Tr4cyF3nt0n #BlogTour #IfOnly
2019 is delivering some cracking books so far and it's not even March yet. If Only I Could Tell You by Hannah Beckerman is another one of those cracking reads and I'm delighted to be reviewing it today. My thanks to Tracy Fenton from Compulsive Readers for the place on the tour and to Orion Books for providing a review copy via Netgalley.
---
Audrey's family has fallen apart. Her two grown-up daughters, Jess and Lily, are estranged, and her two teenage granddaughters have never been allowed to meet. A secret that echoes back thirty years has splintered the family in two, but is also the one thing keeping them connected.

As tensions reach breaking point, the irrevocable choice that one of them made all those years ago is about to surface. After years of secrets and silence, how can one broken family find their way back to each other?
Or support your high street with Hive.
---

I've just finished If Only I Could Tell you and I'm feeling quite frustrated. Not because I didn't love this book because I did, but because of the crux of the storyline, the two sisters who haven't spoken for nearly three decades, ripping their entire family apart. I want to rage at the misunderstandings, the mistakes, for nothing is ever black and white in families is it?
It's the story of Audrey, and of Lily and Jess. Audrey is their mother and she's had to witness the fracturing of her family. Only Jess ever knew why it had happened. Lily and Jess now have daughters of their own, born within six months of each other, cousins who could be close but can never meet. Very early on we learn of something that becomes the catalyst for matters to finally come to a head.
Hannah Beckerman's writing is warm, it's complex, it's beautiful. It's completely heartfelt but this is never a book that is twee or corny. It had me in tears more than once and when I thought I had an inkling of what might have happened Beckerman turned that on its head and dealt me a complete surprise.
What dawned on me right at the end as I thought back to what I had read was that this is very much a book about women. There are five strong women at the heart of it and only two men who feature in a very small way. It's a story of motherhood, of sisterhood, of ruptures in families that can last for years.
It's also an uplifting tale, particularly for Audrey who does something that she has wanted to do for years and it's only now, when time is critical, that she does it. I thought it was wonderful to witness her living her dreams. Her main dream though is for Lily and Jess's relationship to be repaired. I could only hope that her dream would come true.
Keep the tissues handy if you read If Only I Could Tell You. You must have a hard heart if you don't feel anything. The flashback scenes are particularly poignant and particularly difficult to read, but also written with great care and sensitivity. This is a gorgeous read in every way.
---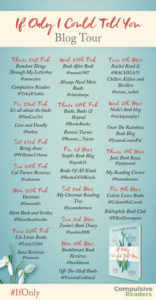 ---

Hannah Beckerman is an author, journalist and broadcaster. She is a regular contributor to The Observer, The FT Weekend Magazine, and The Sunday Express, and was the book critic on Sara Cox's Radio 2 Show. She chairs literary events around the UK and has been a judge on numerous book prizes including the Costa Book Awards.
Prior to becoming a full-time writer, Hannah was a TV Executive who spent fifteen years producing and commissioning documentaries about the Arts, History and Science for the BBC, Channel 4 and Discovery USA before turning her hand to writing.
Hannah lives in London with her husband and their daughter.
Author bio and photo taken from Amazon