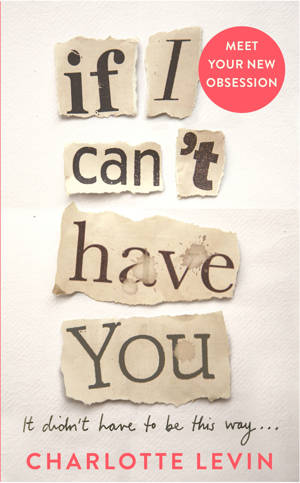 ShortBookandScribes #BookReview – If I Can't Have You by Charlotte Levin
I'm sharing my review of If I Can't Have You by Charlotte Levin today. A couple of days ago I posted an extract from the book and you can find all the book and author information on that post. Once again, my thanks to the team at ED PR for sending me a proof copy of the book for review purposes.
---
---
If I Can't Have You is a book which tackles many issues head-on. It's an incredibly accomplished debut novel from Charlotte Levin.
The book begins with an explosive scene: a young woman on a tube in a wedding dress, blood on the dress and her face, spitting out a tooth, followed by the beginning of her letter to Samuel which makes up the entire book. The young woman is Constance Little, 26 years old and a receptionist in a doctor's surgery. She is such a complex and troubled character and her story is an exceptional one.
This is an intense read and as such it required some concentration from me, particularly in the first half of the book, but I read the last half in a couple of sittings over the course of one day and reading large chunks at a time worked really well as I was able to fully immerse myself in Constance's car crash of a life and her infatuation with Samuel. It's a character-driven story, all seen from Constance's razor-sharp and exacting point of view.
What a character she is! I veered between worrying about her obsessive, to the point of scary, behaviour, to feeling so incredibly sorry for her. A lack of self-worth coupled with overwhelming grief have made her vulnerable, particularly to the kind of man who rides roughshod over women.
I really enjoyed the other characterisations as well, particularly seen through Constance's eyes. The people she works with don't come off particularly well but there's a character she meets called Edward who I thought was perfectly portrayed.
Charlotte Levin writes with a dry humour that made me smile and a rawness that moved me. I loved her writing style and the way the story is told as if Constance is talking to Samuel throughout. It's clever and original, and is a heartbreaking story of fixation, loss and the way the effects of childhood can reverberate down the years.