ShortBookandScribes #BookReview – Hypnotic by Sherry Hostler
Hypnotic by Sherry Hostler is available now in paperback and eBook. My thanks to the author for the review copy.
---

---
IF YOU RUN FROM YOUR PAST, MAKE SURE YOU LOOK BEHIND YOU

Trying to outrun his past and save his marriage, Tom is unwittingly drawn into a university experiment which has a hidden objective. Can you hypnotise someone to commit murder?

The experiment is led by the obsessive Bethany, who harbours a secret she will do anything to keep safe.

The more involved Tom becomes in the experiment, the more he risks everything he holds dear.

But is it too late to turn back?

Irresistibly captivating, Hypnotic will make you realise that if you run from your past, you'd better keep looking behind you.
---

---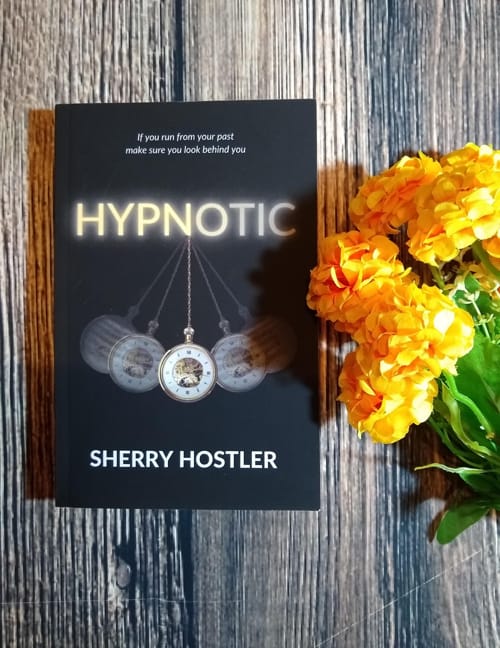 Hypnotic is a debut novel with an unusual and clever premise. After a traumatic event, Tom and Gemma move away and try to have a new start but Tom isn't coping and has trouble sleeping, not to mention his problems with the bottle. Drawn into partaking in what initially appears to be a sleep experiment, he finds himself in a quite different experiment.
Bethany is a quite strange young woman and she becomes interested in whether a person can be hypnotised to commit murder. Enter Tom!
The story is told in alternating chapters from Bethany and Tom's points of view. I'm not sure why, but I preferred Tom's sections. I found Bethany just as unsettling as I suspect I was meant to. I rather liked Tom's acerbic thoughts though, especially in the opening chapter.
The storyline itself had me intrigued, particularly the bits where the hypnosis was taking place. It's a fascinating subject and a little bit freaky really when you consider what Bethany was trying to get Tom to do. The ending is clever and although I did guess some of what was going to happen, I thought it was a very cunning finale on the part of the author. Hypnotic felt a bit different to other books that I've read with its focus on the inner workings of the human psyche.
---
---
Sherry is the author of the psychological thriller 'Hypnotic'.
From the age of about 5 years old she would always tell people that her dream job was to be a writer.  Well, either a writer or maybe a trapeze artist.  She couldn't decide.
Obviously instead of doing either of those things, she decided to follow her parents' advice and study for a sensible job instead.  One which would give security without the need of a net or a team of psychoanalysts on hand to catch her when she fell. She spent an inordinate amount of time in jobs that just paid the bills, and quite a few that didn't.  Sadly, none of them involved creating made up worlds or flying through the air with the greatest of ease.
She always wrote in her spare time though and finally began to get paid for it as she started writing articles for trade magazines.  It wasn't exactly a column in The Times, but she enjoyed it, and after a while her writing got noticed, bagging her several fiction awards.
Eventually, thanks to immeasurable support from her long suffering husband, and much esteem boosting from friends, she took the plunge and wrote her first fiction novel "Hypnotic".
Sherry is now working on her second novel and lives in the countryside in South East England with her husband, and her big fluffy bear of a dog, both of whom try to distract her from writing at every opportunity.  Sherry is glad that she finally fulfilled her dream of becoming an author.  She did try the trapeze once and realised that she really wasn't that keen on heights.
Keep in touch with all Sherry's news and upcoming releases by joining her subscriber's club at www.sherryhostler.com
Facebook: @SherryHostlerWriter
Instagram: @adropofsherry
Twitter: @SherryHostler