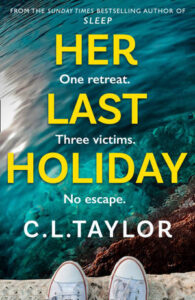 ShortBookandScribes #BookReview – Her Last Holiday by C.L. Taylor
My review today is of Her Last Holiday by C.L. Taylor. I love this author and was so pleased to receive an early copy of this book which will be published on 29th April. My thanks to Ellie Pilcher from Avon for the proof copy of the book for review purposes.
---

---
You come to Soul Shrink to be healed. You don't expect to die.

Two years ago, Fran's sister Jenna disappeared on a wellness retreat in Gozo that went terribly wrong.

Tom Wade, the now infamous man behind Soul Shrink Retreats, has just been released from prison after serving his sentence for the deaths of two people. But he has never let on what happened to the third victim: Jenna.

Determined to find out the truth, Fran books herself onto his upcoming retreat – the first since his release – and finds herself face to face with the man who might hold the key to her sister's disappearance. The only question is, will she escape the retreat alive? Or does someone out there want Jenna's secrets to stay hidden?

The master of suspense is back. Prepare yourself for the latest heart-in-mouth rollercoaster ride from the Sunday Times bestseller.
---

---
C.L. Taylor is one of my favourite authors and I always feel as though I'm in safe hands when I read one of her psychological thrillers. In Her Last Holiday we are transported to both Wales and Gozo as Fran tries to find out what happened to her sister, Jenna.
Jenna disappeared on a retreat in Gozo two years earlier. Was she murdered, did she commit suicide? It appears as though she disappeared into thin air. In a bid to find out what really happened and to try and shut up her unpleasant and overbearing mother, Fran books herself onto a retreat in Wales run by the same people, Tom and Kate.
First of all, I don't ever want to go on a retreat! Both of the ones in the book end up being quite dangerous places consisting of some rather dubious activities and some distinctly strange people. More than once I found myself grimacing at what was going on, and at the twists and turns taking place.
I loved Fran. She's one of those sorts of people who are quite blunt and who say exactly what they think but also she stands up for people and throws herself into all situations with a kind of gung-ho attitude. In fact, all of the author's characterisations are brilliant and I really feel she excels at nailing people's traits and foibles, pinning down exactly what makes them tick.
Her Last Holiday is another great read from Taylor. I was kept guessing and never knew which wellness retreat resident to trust. Fran meets some who were on the Gozo retreat. Do they know what happened to Jenna? I certainly couldn't work it out but I really enjoyed being along for the ride. Full of suspense and tension, with a compelling storyline and fascinating characters, I thought this was an excellent read.
---
---
C.L. Taylor is an award winning Sunday Times bestselling author of eight gripping psychological thrillers including SLEEP, a Richard and Judy Book Club pick for autumn 2019. Her books are not a series and can be read in any order:
2014 – THE ACCIDENT / Before I Wake (U.S. title)
2015 – THE LIE
2016 – THE MISSING
2017 – THE ESCAPE
2018 – THE FEAR
2019 – SLEEP
2020 – STRANGERS
2021 – HER LAST HOLIDAY
She has also written standalone two Young Adult thrillers: THE TREATMENT and THE ISLAND.
C.L. Taylor's books have sold in excess of a million copies, been number one on Amazon Kindle, Audible, Kobo, iBooks and Google Play and have been translated into 25 languages and optioned for TV.
SLEEP won the 'best ebook' award in the Amazon Publishing Readers' Awards. THE ESCAPE won a Dead Good Books award. THE FEAR was shortlisted in the Hearst Big Book Awards in the 'Pageturner' category.
C.L. Taylor lives in Bristol in the UK with her partner and son.
Sign up to join the CL Taylor Book Club for access to news, exclusive newsletter-only competitions and the books that CL Taylor thinks will be the next big thing. You will also receive THE LODGER for free when you join: