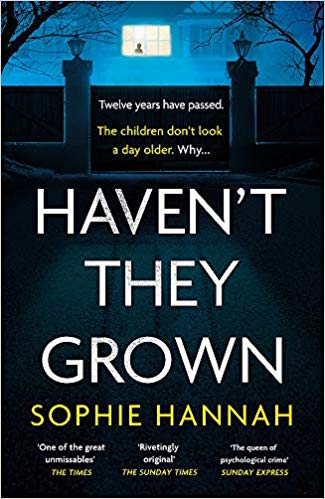 ShortBookandScribes #BookReview – Haven't They Grown by Sophie Hannah @HodderBooks #BlogTour
Welcome to my stop on the blog tour for Haven't They Grown by Sophie Hannah. It's a little while since I read one of this author's books so I jumped at the chance to read one with such an appealing and intriguing storyline. My thanks to Jenny Platt from Hodder & Stoughton for the place on the tour and the proof copy of the book for review purposes.
---
All Beth has to do is drive her son to his Under-14s away match, watch him play, and bring him home.

Just because she knows that her former best friend lives near the football ground, that doesn't mean she has to drive past her house and try to catch a glimpse of her. Why would Beth do that, and risk dredging up painful memories? She hasn't seen Flora Braid for twelve years.

But she can't resist. She parks outside Flora's house and watches from across the road as Flora and her children, Thomas and Emily, step out of the car. Except…

There's something terribly wrong.

Flora looks the same, only older – just as Beth would have expected. It's the children that are the problem. Twelve years ago, Thomas and Emily Braid were five and three years old. Today, they look precisely as they did then. They are still five and three. They are Thomas and Emily without a doubt – Beth hears Flora call them by their names – but they haven't changed at all.
They are no taller, no older.

Why haven't they grown?
---

Haven't They Grown is a book with such an intriguing premise. One day Beth Leeson happens to see her old friend, Flora Braid. With Flora are her two children, Thomas and Emily, aged 5 and 3 respectively. Beth is absolutely certain that all three people are the ones she remembers but she last saw them 12 years ago. In that case, surely this can't be Thomas and Emily. They'd be 17 and 15 now. What on earth is going on and why haven't they grown?
See, aren't you immediately dying to know the answer to that question? I certainly was. These kind of mind-twisting conundrums are what Sophie Hannah excels at. I've read her books before and she always thinks up implausible situations and then finds a way to make them plausible in a way that the reader never can. I couldn't fathom out why the children hadn't grown any more than Beth, who was like a dog with a bone, could. It was only when it all came to a conclusion that I worked it out, so way after everyone else probably.
One of the things I didn't expect was the dry humour but having seen Sophie Hannah a couple of times at author events I perhaps should have expected her own brand of humour to come out in her writing. I laughed out loud at the dialogue several times and the teenagers in particular were so caustic that I just found them so funny. I did mark a couple of passages but I think they don't work out of context so I'll leave them for you to discover for yourself.
This is quite an addictive and thrilling read. I was completely taken up with Beth's search for the truth about her former friend. I recommend this book if you like books that mess with your mind with an almost unfathomable and clever plot.
---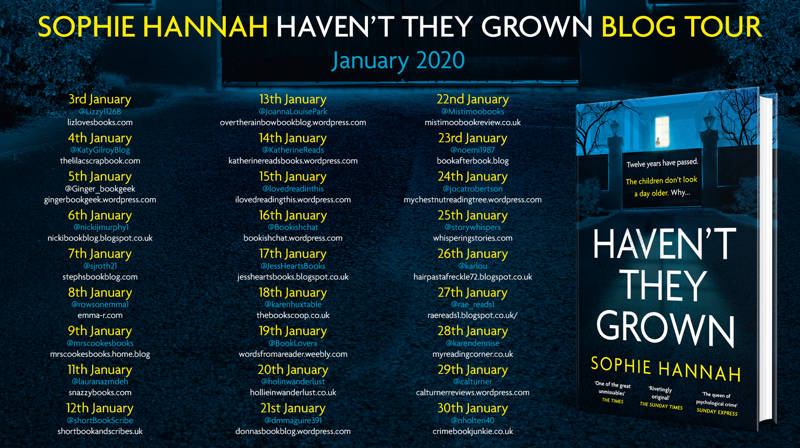 ---

Sophie Hannah is an internationally bestselling crime fiction writer whose books have sold millions of copies worldwide. Her crime novels have been translated into 49 languages and published in 51 countries. Her psychological thriller The Carrier won the Crime Thriller of the Year Award at the 2013 UK National Book Awards. In 2014 and 2016, Sophie published The Monogram Murders and Closed Casket, the first new Hercule Poirot mysteries since Agatha Christie's death, both of which were national and international bestsellers. She went on to publish a third, The Mystery of Three Quarters in 2018 which was an instant bestseller, and her fourth Poirot novel, The Killings at Kingfisher Hill will be published in August 2020. Sophie helped to create a Master's Degree in Crime and Thriller Writing at the University of Cambridge, for which she is the main teacher and Course Director. She is also the founder of the Dream Author Coaching Programme for writers which launched in September 2019.
Sophie is also an award-winning, bestselling poet, and her poetry is studied at GCSE level across the UK. She has co-written two murder mystery musicals with composer Annette Armitage: The Mystery of Mr. E and Work Experience. She has written a self-help book called How To Hold a Grudge: From Resentment to Contentment – The Power of Grudges to Transform Your Life, and hosts the How to Hold a Grudge podcast.
Sophie lives with her husband, children and dog in Cambridge, where she is an Honorary Fellow of Lucy Cavendish College.
And I can be found online here:
Website
Facebook
Instagram
Twitter
Dream Author Coaching
Podcast – How to Hold a Grudge