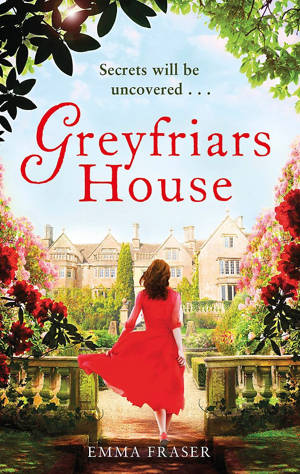 ShortBookandScribes #BookReview – Greyfriars House by Emma Fraser
My review today is of Greyfriars House by Emma Fraser, a dual time frame novel set in Scotland. My thanks to the author for kindly sending me a copy of the book.
---

---
On a remote Scottish island sits Greyfriars House

1939

Nine-year-old Olivia Friel is delighted to be spending the summer at Greyfriars House, a place where her parents, their family and friends are always happy. But this year there's an underlying tension that Olivia doesn't understand. Then one night she sees something she's not meant to, and accidentally lets slip a devastating betrayal.

1984

Charlotte Friel gets a call from her ailing mother, asking something she's never asked before: for Charlotte to come home. There are things Olivia needs to tell her daughter before it's too late, secrets to be shared about forgotten relatives and a mysterious house.

Left reeling by recent events, Charlotte is unsure what path to follow. But eventually her curiosity, and a desire to escape her own life, lead her to Greyfriars House.

Will she find the answers she needs to make peace with the past?
---

---
'On a remote Scottish island sits Greyfriars House'.
There, you had me with 'remote Scottish island'. Greyfriars House sits on that island called Kerista, near to Oban. In 1984, when Charlotte Friel finds herself there, it's fallen into a bit of disrepair, the grounds are run down and there are no staff helping the two residents, but there's still something special about the house.
This is a dual time frame novel and I love those kinds of stories. But actually, there's more than the two distinct times featured in the story and this really is quite a sweeping read taking in the events of 1939, 1984 and everything in between. There's more than a hint of the Kate Morton about it – all good for me!
This is a book of family secrets, some that rip relationships apart, others that quietly simmer in the background. A loss takes Charlotte to Greyfriars and there she hears of these secrets and so does the reader, in both current day conversations and flashbacks from the characters involved.
I found this was not a book I could rush, nor did I want to. It's around 430 pages, so reasonably chunky, but it's more that it's so full of rich detail, of breadcrumbs dropped that made sense as I read on. I found myself totally immersed in the stories of the women who feature so strongly.
Which also brings me round to the setting as I was also engrossed in all the descriptions of it. If there's a setting that most draws me to a novel it's a remote island, especially if it's a Scottish one. Greyfriars is only accessible by boat which adds a bit of romance and intrigue and I just loved the idea of it sitting there proudly, yet faded, on its little bit of watery paradise.
There are some lovely tales of love and family in this book, juxtaposed by the harsh realities of war, especially in the camps in Singapore. Fraser hits the perfect balance between them and has written a wonderful and absorbing read.
---
---
One of six children, Emma's Gaelic speaking parents emigrated to Africa when she was nine years old. She remembers lying in bed, listening to her father playing the bagpipes in the garden, the sound carrying for miles across the veld.
When she was a teenager Emma returned to the Western Isles of Scotland and worked in a variety of jobs from putting up signposts on archeological sites in mid winter, to being a waitress in Skye. She qualified as a nurse and worked in Edinburgh and Glasgow before going on to study English literature at Aberdeen University.
Emma began writing when her daughters started school and has published four historical novels two of which were shortlisted for the Romantic Novel of the Year Award. Her latest book Greyfriars House was inspired both by events in Singapore during WW2 and a real house on a remote island.
Emma loves to immerse herself in research. As she says "In these times of celebrity culture, it's ordinary women doing extraordinary things that inspire my writing."