ShortBookandScribes #BookReview – Greta and the Labrador by Kevin Jackson, Illustrated by Jo Dalton @HhouseBooks
This is a really beautiful book to behold and I'm delighted to be reviewing it today. My thanks to Holland House Books for sending me a gorgeous copy for review purposes.
---

Greta Garbo, the immortal goddess of the silver screen, said that she wanted to be alone. What if she had been granted that wish? What if she had travelled further and further until she arrived at the North Pole? And what if she met a faithful dog along the way…
---
Greta Garbo was known for wanting to be alone. I didn't actually realise until I read Kevin Jackson's author note at the end of this book that she said it in a film (two actually) not in real life. Nevertheless, she decided to remove herself from the Hollywood lifestyle and spend her time alone.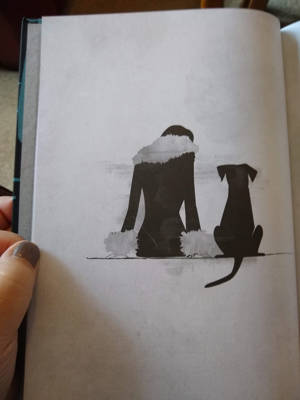 Greta and the Labrador is not a poem about the actress's real life. It's an imagining based on various things. Here, her desire to be alone takes her to the North Pole. The actress did like dogs but never had a black Labrador, who in the poem becomes her most faithful companion (although I'm not entirely sure she was always deserving of him). The fact that he was a black dog was not lost on me. Black dogs have been used to signify depression. However, in this poem the dog probably helps Greta out of a depression.
I'm very impressed at the author's ability to write such a long poem in rhyming couplets and not once did it feel forced. Each fitt is beautifully constructed to tell this unusual semi-fantasy based story. And then, just when you think you have read everything, there is an interesting and knowledgeable afterword by the author which gives a background to the writing of Greta and the Labrador. It's not often I comment on the afterword but it's really such a good one.
Each page is accompanied by stunning black and white illustrations which really help to being the story to life. In fact, the whole book is a thing of beauty, a thin and sturdy hardback. With Christmas fast approaching this would make a wonderful gift for anyone who likes dogs, Hollywood, poems or simply a very attractive book.
---

KEVIN JACKSON is an English writer, broadcaster and film-maker. His books include Constellation of Genius, Carnal and the best-selling Kindle Single, Mayflower: The Voyage from Hell. He won Cambridge University's Seatonian Prize for poetry, and has published a translation of Crimean Sonnets, by the great Polish poet Adam Mickiewicz. JO DALTON is an experimental Artist and Motion Designer. Her design studio Room Fifty Nine is based in Bristol and she works in media ranging from Intaglio Printmaking, Painting and Illustration, through to Graphic Design, Motion Graphics and Animation.