ShortBookandScribes #BookReview – Gone by Leona Deakin @TransworldBooks #RandomThingsTours #BlogTour
A few months ago I was lucky enough to receive a proof of Gone along with some intriguing extras. It's a fantastic read and I'll be sharing my review today. My thanks to Anne Cater of Random Things Tours for the place on the tour and to Hayley Barnes of Transworld for both the proof and the finished copy of the book for review purposes.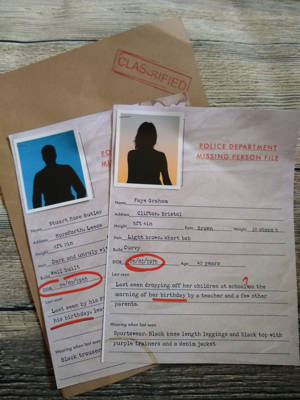 ---

Four strangers are missing. Left at their last-known locations are birthday cards that read:

YOUR GIFT IS THE GAME.
DARE TO PLAY?

The police aren't worried – it's just a game. But the families are frantic. As psychologist and private detective Dr Augusta Bloom delves into the lives of the missing people, she finds something that binds them all.

And that something makes them very dangerous indeed.

As more disappearances are reported and new birthday cards uncovered, Dr Bloom races to unravel the mystery and find the missing people.

But what if, this time, they are the ones she should fear?
---
Oh wow, this is such a fantastic read. I was hooked from page 1 and the pace didn't let up until the very end.
What a premise too. Leona Deakin has written something so incredibly original. I was marvelling at its power to intrigue and surprise me. Dr Augusta Bloom is the main protagonist. She's a psychologist but also an investigator, an unusual and perhaps unexpected combination. I thought she was a brilliant creation. Working alongside her colleague, ex-secret service agent Marcus Jameson, she is asked to look into the disappearance of first of all a friend of Marcus's, and then more people who have disappeared in similar circumstances.
Missing person storylines are nothing new but this is where the author has taken it a step further. She's invented something that absolutely thrilled and fascinated me and made me seriously think about certain people! The people go missing when they receive a first birthday card with a dare contained within it, a dare to play a dangerous game.
This is a story that flows perfectly. It's so easy to read and yet it's such a complex storyline. I'm really impressed with how well the author managed to make it oh so plausible, so realistic, so chilling and so exciting. I was also amazed by the twists which I really did not see coming – so clever and dark.
I'm so pleased to see that Augusta will return in a second book in 2020. I don't know if Lost can possibly top Gone but I'm really looking forward to finding out. In case you hadn't cottoned on, I highly recommend this book. It's nice to read something so innovative, an investigative story from a different viewpoint, not a police procedural. It completely messed with my mind, challenged my thinking and made me look at people in a completely different way. Just brilliant.
---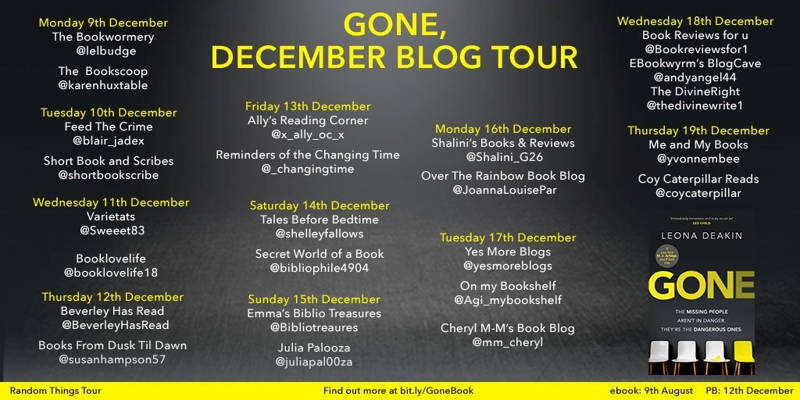 ---

Leona draws inspiration for her writing from her own experiences having started her career as a psychologist with the West Yorkshire Police and her successful work in psychology since. She is now an occupational psychologist and lives with her family in Leeds. This is her debut thriller.